VietNamNet Bridge – More than VND6.5 trillion (US$309 million) from the State budget will be spent in developing the cinema industry nationwide from now to 2020, according to the Department of Cinematography.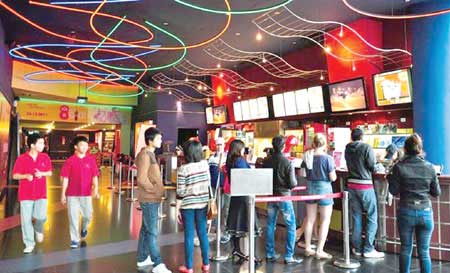 Big screen: The State is going to spend more than VND6.5 trillion to develop the nation's movie industry, including investing to build modern cinemas. — Photo rapchieuphim.net
Under the plan, 57 cinema complexes will be built, including two larger cinema complexes with 1,500 seats each in Ha Noi and HCM City.
At least 49 State-owned cinemas, most of them located in provinces, will be upgraded with quality facilities and more beautiful decor.
According to screenwriter Nguyen Thi Hong Ngat, former deputy director of the Department of Cinematography, the Government should allocate more money to the industry because of its "increasing prosperity in recent years".
She said the outdated cinema system owned by the Government was one of many major challenges that the film industry needed to overcome.
"We also need to improve our management before spending more money on new cinemas," said Ngat.
According to a recent survey by the Department of Cinematography, the country has 97 cinema complexes with 246 cinemas, including 72 complexes with 104 cinemas owned by the Government. Most of the State-owned cinemas are in poor condition and have not turned a profit for several years.
In 2011, cinemas earned a total of $35 million in sales. Last year, the figure was $47 million. Most of that figure came from privately owned cinemas.
Last week, Thien Ngan Studios, which opened one of the country's first private production and distribution outlets in the 90s, opened its fourth cinema complex with seven high-end cinemas in HCM City's District 6.
Thien Ngan's general director Dinh Thanh Huong said that her company and its partners decided to invest more to open a new cinema complex because of their belief in the strength of the industry.
"The city's cinema business is promising for us," she said.
Huong's company is not the only one making a profit from the cinema business. Foreign and domestic investors have also poured a great deal of money into cinemas in big cities.
Next week, the private Platinum M.V.P. Company will open the Platinum Cineplax in a shopping centre in Ha Noi.
The company's largest complex has 10 luxury cinemas, with 1,700 seats, showing foreign films in the original language and Vietnamese subtitles.
In addition, the Korean-owned Lotte Cinema has eight cinema complexes in Ha Noi, HCM City, Da Nang, Dong Nai and Khanh Hoa, while Megastar, the country's biggest private cinema owner, opened its 10th cinema complex nationwide in HCM City last year.
Each month, the Viet Nam Film Distribution and Cinema Company receives more than 100 films from its partners.
If services are improved, State-owned cinemas will be able to satisfy the demands of moviegoers and begin to make a profit.
Source: VNS