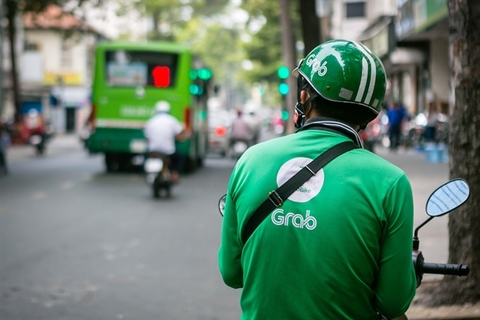 Grab drivers are worried that the fee increases would affect their incomes as passengers might choose other apps instead. — Photo saigonneer.com
The Grabcar and GrabBike fees were raised by around 5-6 per cent, starting from December 5, to ensure drivers' income, as Grab said, when value-added tax (VAT) increased following Decree No 126 detailing some points of the Law on Tax Management which took effect the same day.
Accordingly, 4-seat GrabCar service fees in Ha Noi, Bac Ninh, HCM City, Binh Duong, Dong Nai and Can Tho increased VND2,000 to VND27,000 for the first two kilometres. The fees in Hai Phong, Quang Ninh and Da Nang rose by VND3,000 to VND25,000. The fees increased by VND500-1,000 for each subsequent kilometre.
The GrabBike service fees increased from VND3,400 to VND4,000 per kilometre after the first two kilometres.
Before Decree 126 came into effect, drivers paid VAT of 3 per cent on what they received and Grab paid VAT of 10 per cent on the revenue the company collected.
Under the new decree, Grab must pay VAT of 10 per cent on the total revenue passengers paid for each ride.
Grab estimated that if the fees were not increased, their drivers' income would fall by around seven per cent per year.
The company said that the increases in fees would help reduce drops in drivers' income to 1 per cent per year, and that the fees remained competitive in the market.
For GrabBike service, Grab now collected 27.2 per cent, from 25 per cent, which included 20 per cent of the service fee for the app and VAT (excluding 1.5 per cent personal income tax if their annual income was from VND100 million or higher). For GrabCar, Grab collected 32.8 per cent, from 28.3 per cent, including the app service fee of 25 per cent.
The increases in Grab fees was met with objections from drivers as many of them turned off the apps on Monday.
Drivers were worried their incomes would be affected as passengers would switch to other transportation services providers as the market in Viet Nam was seeing increasing competition with the participation of a number of players.
Nguyen Manh Tung, a Grab driver in Ha Dong, Ha Noi, said the higher fees would cause passengers to avoid using Grab services, meaning drivers' income would drop.
'It is really hard for drivers with the growing competition and Grab collecting high commission fees," he said.
Nguyen Thu Huong in Linh Dam, Ha Noi, said that she used to book Grab rides due to their convenience and attractive promotions which made the fees low. However, she was shocked when the Grab fee for her daily commute increased from VND40,000 to more than VND50,000, causing her to consider public transport instead.
Expert Dinh The Hien said that it was important to harmonise the benefits of the company, drivers and passengers.
Food delivery app Beamin recently announced increases in the commission fees from 20 per cent to 27.2 per cent.
A representative from Be Group said that the company was waiting for a circular detailing the decree to identify taxable incomes and support its drivers to comply with the tax regulations.
Gojek Viet Nam said that there might be some adjustments but it was studying the best solutions. — VNS

Under a new regulation, from December 5, ride-hailing services will be taxed 10 percent instead of the current 3 percent.