There are many types of tea in Vietnam, grape fruit flower tea is no doubt one of the most renowned, and a truly specialty of Hanoi.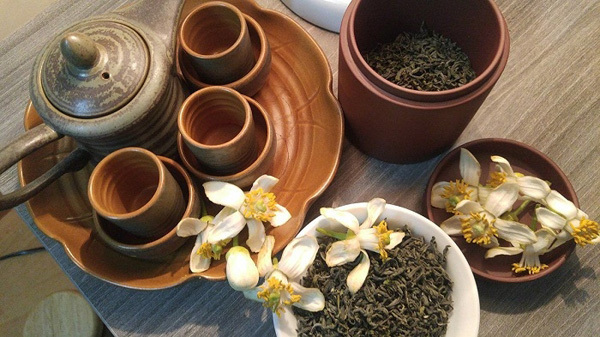 Grape fruit flower tea – a specialty of Hanoi.
It requires a complicated and time-consuming process to make grapefruit flower tea the traditional way. The best tea used to make grapefruit flower tea should be from Tan Cuong commune, the northern province of Thai Nguyen.
The selection of grapefruit also requires great care. While grapefruit flowers can be found anywhere, artisans choose fresh flowers which are non-fertilised ones to ensure a clean and safe tea pot.
After being picked, the petals are quickly separated from the flower before it withers and loses fragrance. The petals are then mixed with high grade dried green tea. For every layer of tea, a layer of fresh grapefruit petals must be laid down.
'It depends on the experience of each artisan, or the habitat of each family to decide the ratio of Tan Cuong tea and grapefruit petals. However, the ratio must ensure a distinctive taste to the tea', according to young artisan Nguyen Viet Hung.
Grapefruit flower tea can be marinated in carton box, pot or ceramic jar. Throughout the process of tea marination, tea leaves and grapefruit flower petal are arranged in layers and turned every two hours in two days for adequate exposure to air and inspection.
Drying up the grapefruit flower tea at the temperature of 90-100 degrees Celsius is the last process. Artisans will let it cool off before packaging.
Beside unscented green tea, teas with the scent of flowers are unique examples of Vietnamese tea culture. The whole process is made by hand, in a very careful manner to transmit the natural scent into the tea.
Source: NDO/VNA

The flowers fragrance breeze could be smelled in the streets where a flower vendor is about to pass by.

Flavoring green tea with lotus scent is a manual process and no chemicals are allowed.