Green offices remain key theme in HCM City commercial real estate
A flight to quality will remain a key theme in the HCM City office market in 2023 as both foreign and domestic companies are setting ambitious net-zero targets to comply with environmental, social and corporate governance (ESG) regulations.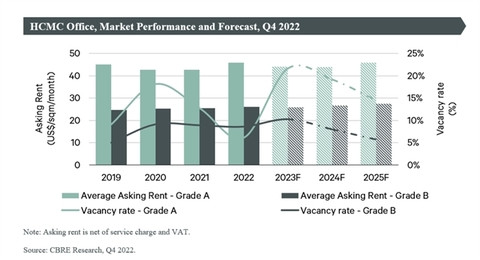 The HCM City office market performance in quarter four of 2022. — Photo Courtesy CBRE Vietnam
In a recent report, CBRE said that in 2023, the HCM City office market will welcome over 200,000sq.m of new supply, including the first two Grade A projects in Thu Thiem new urban area and the first WELL-certified project in HCM City, providing occupants with more opportunities to relocate to newer, ESG-compliant buildings.
Thanh Pham, associate director, research and consulting department, CBRE Vietnam, said: "In 2023, HCM City will introduce at least four new office buildings with green certificates. For developers, setting a sustainability strategy and developing a roadmap to achieve milestones are essential to attracting major anchor tenants. There is solid stronger demand for green buildings and green leases."
Sharing the same view, Savills Vietnam predicts that "developers are increasingly conscious of future-proofing properties and are starting to deliver green products. While occupier awareness remains low, this will likely change rapidly as ESG becomes fundamental to business."
According to Savills, green offices in 2022 were 20 per cent of the leasable stock.
Future projects are racing to obtain green certificates to satisfy ESG commitments, which will support a supply increase, the company said.
Savills predicted that by 2025, there will be an additional 103,900sq.m net leasing area of green offices from The METT and The Hallmark in 2023 and The Nexus.
"Robust leasing reflects health demand. Growing ESG commitments will drive green and sustainable initiatives," said Vo Thi Khanh Trang, associate director of research, Savills HCM City.
Given the robust pipeline and the predicted upcoming economic recession, the average vacancy is forecasted to increase to 21.5 per cent in 2023, CBRE said.
The elevated vacancy will weigh on rental prices, with Grade A rents decreasing by 4 per cent in 2023. Grade B rents will be in a more stable condition, with the rental rate expected to fluctuate around the current rate, and the vacancy rate will increase in 2023 but will soon bounce back in 2024.
In contrast, flexible office space will be a safe bet if companies have to look for expansion, the company predicted.
In 2022, the office supply in HCM City increased by only 2 per cent, with three new projects and over 40,000sq.m of net leasing area.
In the last quarter, no new building was launched, mainly because of the delay in constructing new buildings. The recent investigation into a developer's misconduct has shown in a slowdown in the construction progress of future pipelines, especially the Grade A – CBD projects.
On a positive note, thanks to limited available space, the HCM City office market had a remarkable recovery from the COVID-19 impact in the first nine months, with total net absorption improving from 55,000sq.m in 2021 to 75,000sq.m in 2022.
According to CBRE, the average vacancy rate was only 7.8 per cent, 2.3 percentage points lower than previous year. Consequently, Grade A and B's average asking rent increased by 7.4 per cent and 2.2 per cent, year-on-year, to US$45.9 per sq.m per month and $26.0 per sq.m per month, respectively.
Nevertheless, in the forth quarter, the HCM City office market started to feel the heat from the macro-economic headwinds. Net absorption started to slow down from 44,000sq.m in the third quarter to only 8,000sq.m in the fourth quarter.
The total net absorption of 2022 was approximately 75,000sq.m, equal to only 69 per cent of the pre-pandemic level in 2019.
CBRE expects expansionary demand to remain muted in the first half of 2023 as corporate revenue growth slows. Most companies will adopt a wait-and-see mode, focusing on short-term lease renewals. — VNS