Growing Chinese investment in Vietnam: time to worry?

Chinese companies are accelerating investment in Vietnam – but some local businesses are voicing concerns.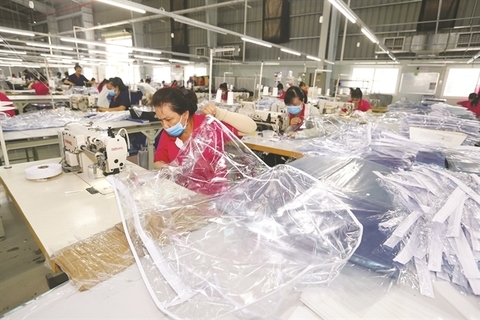 Workers at China's AKA Homewares Company in the southern Long An Province.
Foreign investment hit a four-year high of US$16.7 billion in the first five months of this year, up 69 per cent compared to the same period in 2018.
Chinese investment made up 42.5 per cent of the total according to data released by the Foreign Investment Agency (FIA) under the Ministry of Planning and Investment.
If including Taiwan's investment, Chinese investors poured nearly $7.7 billion in Viet Nam, surpassing South Korea, Singapore and Japan to become the biggest foreign investor.
In its recent report, the FIA says the trade tensions between China and the United States has a significant impact on the shift of Chinese investment. Investments from mainland China and Hong Kong increased from $3.7 billion in 2017 to $5.8 billion in 2018 and $7.1 billion in the last five months.
Previously, Chinese investors were mainly small businesses with out-dated technology but now many large corporations have funded large-scale projects.
Five of the seven biggest foreign-invested projects in the last five months came from Chinese backers, including the ACRT's all steel Radian tire manufacturing project worth $280 million, a $260 million electronic equipment and multimedia audio products manufacturing project invested by Hong Kong-based Goertek Co Ltd, and the $214.4 million tires, rubber manufacturing project invested by Guizhou Advance Type Investment Co Ltd.
However, FIA said increased technological pressure would drive Chinese companies to move their low-quality and old-fashioned technology investment to other developing countries, including Viet Nam, which would potentially pose risks of environmental pollution and create pressure on infrastructure and society.
Chinese investors are also increasing merger and acquisition (M&A) activities, raising the concerns Vietnamese enterprises would be acquired and annexed.
According to Nguyen Mai, chairman of the Association of Foreign Invested Enterprises, Viet Nam needs to fine tune its policies to ensure high-quality foreign investment.
"China is a country that exports a lot of raw materials to Viet Nam," Mai told tienphong.vn. "Therefore, it is not excluded that they invest in manufacturing in Viet Nam to get the origin of goods to take advantage of tax benefits from the free trade agreements Viet Nam has signed with other countries."
Regarding the rapid increase in Chinese investment in the last five months, Mai said Hong Kong topped foreign investors in Viet Nam with $5.08 billion but three quarters of the amount was spent on buying shares of local companies, of which $3.8 billion was for the purchase of Vietnam Beverage Co Ltd in Saigon Beer-Alcohol-Beverage Corp (Sabeco).
He said China was looking for investment opportunities but was not rushing into purchases.
At a recent press conference in Ha Noi this month, commercial counsellor of Chinese Embassy in Viet Nam Hu Suo Jin said Chinese investment had increased since 2017 and the value of this year would be higher than last.
However, he did not see solid evidence for the connection between the investment increases with the trade friction with the US so far. A more detailed report must be conducted in the next few months.
Another representative of the Chinese Embassy said China had adopted many measures to mitigate the effect of the trade tension with the US and confirmed China's socio-economy was still doing well. — VNS

Chinese investment capital in the first four months of 2019 alone amounted to 70 percent of the investment capital in the entire year 2018.

National Assembly deputies have raised their concerns about the potential risks of soaring Chinese foreign direct investment inflows into Vietnam.  
Promoting Vietnam's popular destinations and tour activities at source markets, especially China, is one of the solutions suggested by Minister of Culture, Sports, and Tourism Nguyen Ngoc Thien.