Gunman dead after Centennial, Colorado, school shooting
A student at a Colorado school shot and wounded two students, one seriously, before dying of an apparent self-inflicted gunshot wound, police say.
A student at a Colorado school shot and wounded two students, one seriously, before dying of an apparent self-inflicted gunshot wound, police say.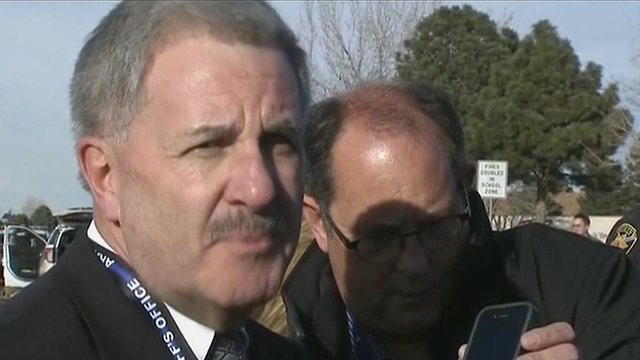 Arapahoe County sheriff Grayson Robinson: "The suspect... has deceased as a result of what appears to be a self-inflicted gunshot wound".
The gunman brought a shotgun to the school and was looking for a specific teacher when confronted by a classmate, the Arapahoe County sheriff said.
The teacher left the school after learning he was a target.
The attack took place a day before the anniversary of a US primary school shooting which left 20 children dead.
Six adults were also murdered when Adam Lanza attacked Sandy Hook elementary school in Newtown Connecticut. Small ceremonies are due to take place in the town on Saturday.
'Active shooter'
The suspect entered Arapahoe High School in Centennial at 12:33 local time (19:33 GMT), according to officials.
The BBC's Jonny Dymond: "The school is just eight miles from Columbine"
The school and others in the area were placed on lockdown.
Upon the initial reports of a shooting, heavily armed police trained in "active shooter" scenarios stormed the building, ordering students outside with their hands over their heads.
The 15-year-old female student who confronted and was shot by the suspect was in serious condition and undergoing surgery in hospital, the sheriff said.
Inside, they found another student who had apparently suffered a minor gunshot wound.
Authorities also found the student believed to be the gunman, dead from an apparent self-inflicted gunshot wound, Arapahoe County Sheriff Grayson Robinson said.
Are school lockdowns panic or preparedness?
"That individual is currently deceased and he apparently killed himself," he added.
Police have not yet released the name of the suspect but believe that he acted alone. Sheriff Robinson said they knew his identity.
He added that the shooting appeared to be an attempt at revenge following a disagreement between the suspect and the teacher he was looking for.
Two petrol bombs were also found inside the school.
The school has more than 2,200 students and 70 classrooms.
One student told a local CBS affiliate she heard three shots and hid in a locked room as teachers attempted to comfort those inside.
A school caretaker told local media he saw a student dressed in military-type clothing running through the school and took the threatened teacher outside.
Colorado Governor John Hickenlooper praised authorities' quick response to the incident on Friday.
Our "prayers are with the entire... community," he said.
The school is just eight miles (13km) east of Columbine High School in Littleton, Colorado, the site of a mass school shooting in April 1999 which left 14 students dead.
A report last month found that Adam Lanza, who carried out last year's Sandy Hook murders, had an obsession with mass killings, particularly the Columbine shootings.
BBC