The National Traditional Boat Boating Tournament will kick off on May 5, on the Con Son Lake of the Con Son-Kiep Bac Tourism Site in Chi Linh Commune, Hai Duong Province.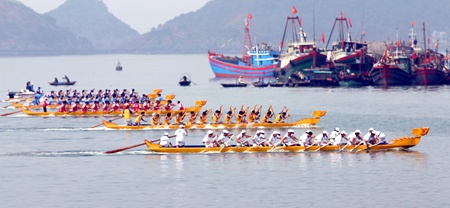 The organisers have claimed that the event will have the participation of more than 500 athletes from 14 delegations in the 18 events held for both men and women. They will compete in three distances of 200, 500 and 1,000m.
Quang Tri, is considered one of the favourites to win the title and represented by 70 athletes, is the biggest contingent to ever to participate in the tournament. The Can Tho contingent comprises 55 athletes and the host Hai Duong and Kien Giang have sent 50 athletes each.
This is the second edition of the tournament, which is a part of the National Sports Games. It was first organised in Ha Tien, Kien Giang Province.
According to Nguyen Hai Duong, the general secretary of the Viet Nam Canoeing, Rowing, and Boating Federation, the results of this competition will be counted in the seventh National Sports Games in November. The results of the tournament will also be considered the basic criteria to select athletes for the national team, which will compete at the Asian Beach Games, later this year in Phuket, Thailand.
The finals of all events are scheduled to be held on May 12.
Source: VNS