Hai Phong: More ivory seized at Lach Huyen port
Another batch of smuggled ivory was found at Lach Huyen international port in the northern city of Hai Phong on February 6, the second of its kind within seven days.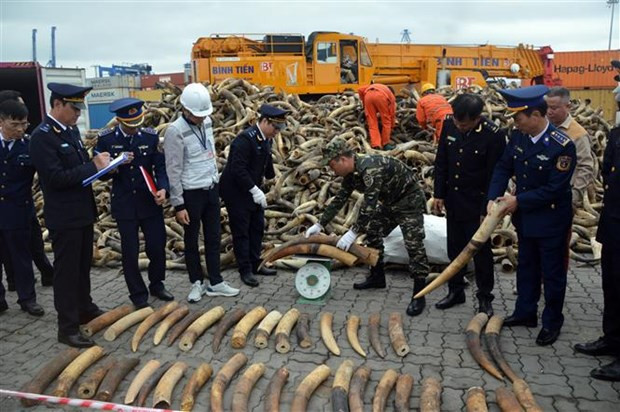 The tusks seized at the scene (Photo: VNA)
Examining a suspicious container on the day, the Region 1 Coast Guard High Command and the municipal Department of Customs uncovered 42 pieces of ivory tusks weighing 125kg and contained in sacks. The illegal items were mixed into the horns of farmed oxen, imported from Africa to Vietnam by sea.
Earlier, on February 2, a container containing 117 pieces of ivory tusks with a total weight of 490kg was detected at the port. The tusks were also mixed with imported cattle horns.
Further investigation is underway.
Vietnam has banned the trading of ivory elephant tusks since 1992. Trading, storing and transporting ivory is forbidden, with violators fined from 5-50 million VND (213.2 – 2,132 USD) or six months to five years in prison./. VNA