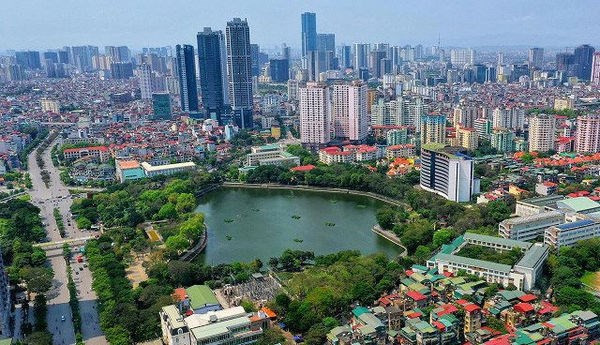 A corner of Hanoi (Photo: VNA)
Hanoi has designed a plan to develop itself into a smart, modern, green, clean, beautiful and safe city and the leading centre of innovation, development research and technology application and transfer of the country, heading to be a science-technology hub in Southeast Asia.
According to the municipal People's Committee, the capital city has defined science-technology as a decisive factor in boosting economic growth and improving productivity, quality and efficiency of all socio-economic activities.
Under the plan, the city will strive to create a total-factor productivity (TFP) contribution of over 50% to the economic growth in 2025 and more than 55% in 2030.
Labour productivity is hoped to increase 7.7.5% in 2025, and 7.5-8% in 2030. The proportion of digital economy in the city's gross regional domestic product (GRDP) is expected to reach 30% in 2025 and about 35% in 2030.
At the same time, the rate of high-tech agricultural production in overall production value of the agricultural sector is planned to hit 70% in 2025 and over 85% in 2030.
The city will also strive for over 70% in the rate of high-tech value in the processing-manufacturing sector in 2025, and 85% in 2030.
At least 40% of OCOP (One Commune-One Product) products of the city are expected to receive support in intellectual property registration, which will be raised to 60% in 2030.
Hanoi will work to have 12 science-technology researchers and developers out of each 10,000 people in 2024, and 14 out of each 10,000 people in 2030.
To this end, the city will set aside 1.2-1.5% of its GRDP to invest in science-technology development. The rate will be 1.5-2% in 2030.
Hanoi has also worked out specific measures to boost science-technology development in particular aspects.
The city will implement 22 tasks, programmes and projects to realise its science-technology development strategy in the time to come./. VNA