Hanoi asks for better straw management to reduce air pollution

The declining demand for field-dried straw has triggered crop burning in Hanoi's outlying districts, leaving the city choking in haze.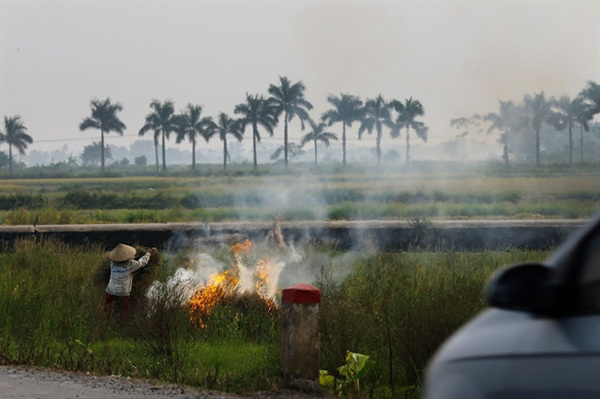 Hanoi's Quoc Oai District is choked in smoke from burnt straws and other agricultural wastes. — VNA/VNS Photo Trong Dat
Hanoi's air quality has dropped to very unhealthy and hazardous levels in the past three weeks. Experts and city officials have pointed to temperature inversion during the changing season, rising use of private vehicles and straw fires as the main causes for bad air in the capital city.
"Farmers continue burning straws despite our warnings and fines levied against the acts. As a pattern, Hanoi's air quality usually worsens around this time every year because of this very practice," said a representative of the city's Department of Environment Protection.
Smoke generated from rice field fires in the rural districts of Soc Son and Thach That has also reduced visibility over Noi Bai International Airport and Thang Long Avenue and in the vicinity, posing threats of traffic incidents.
Other provinces in the Hong (Red) River Delta like Hưng Yên, Nam Định and Hải Phòng are also engulfed in haze with the air quality index (AQI) exceeding 200 in a number of days.
Some 20 million tonnes of straw is generated in Vietnam each year as a by-product of rice cultivation. Once considered cheap fuel, field-dried straw is no longer used by rural households, thus is burnt.
Soot, ash and emissions, including the harmful ultrafine PM2.5, toxic chemicals and even dioxin, from massive burnings have blanketed northern provinces and caused health problems for residents.
A farmer in Vien Noi Village, Van Noi Commune, Dong Anh District, said she used straw ash as phosphorus fertiliser for water spinach.
"It is not harmful for the environment," she said. "All vegetable farmers burn straw, if not, we will have to pay VND50,000 (US$2.16) for a bag of ash."
An officer of the district Plant Protection Department said they encouraged farmers to use bioproducts to ferment straw to produce organic fertiliser right on paddy fields.
"Yet many of them refuse to follow the practice as prices of bioproducts remain high, at VND47,000 ($2.03) for every 360sq.m," he said.
According to the Vietnam Food Association, as foreign markets like the EU, US and China have set standards of traceability for rice imported from Vietnam which require organic and sustainable farming practices, better management over straw is essential to ensure rice-quality, protect the environment and create livelihoods for rural community.
Vo Tong Xuan, former president of Long An Province-based Tan Tao University, who is also known as 'Doctor Rice' for his televised rice farming workshops, has recommended seven ways to earn money from straw instead of resorting to burning, which include selling baled straw, growing mushrooms, breeding cattle, producing paper, thermal energy and ethanol.
These solutions involve the Government, agricultural households and consumers.
The Government needs to tighten management over straw combustion while people and companies are encouraged to make compost and biomass from straw and expand the market for these products.
From September 24 to October 7, an interdisciplinary task force composed of Hanoi departments of Natural Resources and Environment, Agriculture and Rural Development, and Police inspects straw treatment in 19 districts and towns to work towards solutions.
The "golden" rain on Thursday partly washed away air pollution agents in Hanoi, returning the AQI to 43 – a good level in the early morning.
However, the favourable condition did not last long. From noon, the city's sky was hazy again with the AQI rising to unhealthy levels.
Crop burning is a problem not just in Vietnam. Thailand's mountainous northern city of Chiang Mai also records red-level air quality during the smoky season, from February to April, as local farmers burn the leftover vegetation after harvesting to make room for new cultivation.

Post-harvest straw burning at Hanoi's suburban areas has worsened the air pollution in the city which has reached alarming levels in recent days.

Hanoi is promptly taking actions to improve air quality which has been assessed as very low for the past two weeks, according to municipal authorities.  

Outlying districts in Hanoi have been badly affected by burning rice straw.  
VNS