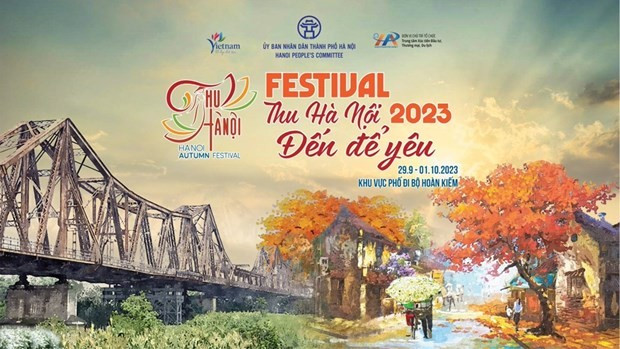 The Hanoi Autumn Festival will take place from September 29 to October 1. (Photo: VNA)
The festival, themed "Come to fall in Love in 2023", will take place from September 29 to October 1, she said.
It will introduce tourism products and potential, typical handicrafts and souvenirs of the capital city through 150 booths along Dinh Tien Hoang Street and areas surrounding Hoan Kiem (Returned Sword) Lake.
A series of activities will be organized within the framework of the festival, including a conference on the development of MICE & Golf tourism, a photo exhibition entitled Sac Thu Hanoi (Colours of Hanoi Winter) and Ao Dai (traditional long dress) show.
The festival's highlight will be the Hanoi Autumn Carnival with the participation of 1,500 people on October 1.
The Hanoi Culinary Space 2023 entitled "The quintessence of Vietnamese cuisine" will also be held at the Hanoi Children's Palace from September 29 to October 1. The event is intended to promote the city's culinary value as a unique tourism product to visitors.
The highlight of the event will be a space for Hanoi's 'pho' (Vietnamese noodle soup), with some famous brands to be introduced.
Hanoi Autumn Festival 2023 and Hanoi Culinary Space 2023 are part of activities to mark the capital city's 69th Liberation Day (October 10), Anh said, adding that it is an opportunity to promote the beauty and cultural value of the city.
Hanoi has been listed among the 12 best places worldwide to travel in autumn by the US's news channel CNN, she noted.
The unique attraction of autumn in Hanoi attracts not only domestic but also foreign tourists, Anh said, adding that the city's tourism industry is exploiting the beauty of autumn to build attractive and creative tourism products.
Source: VNA