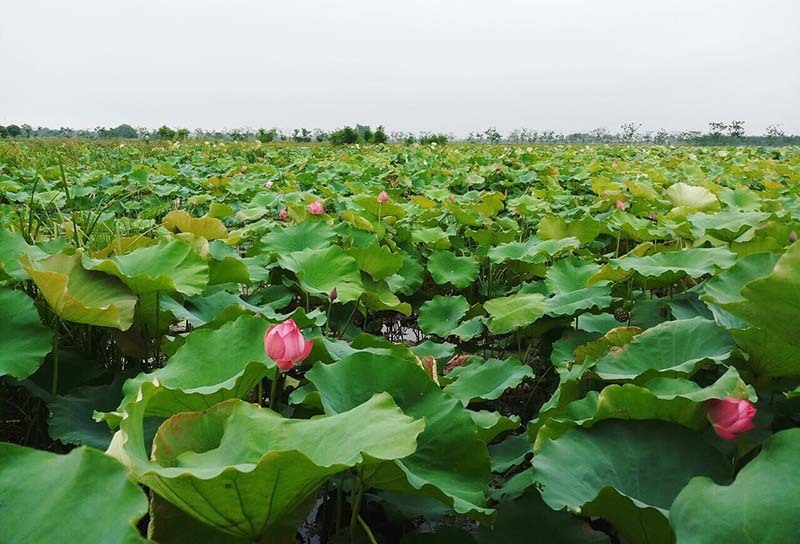 One afternoon in June, under the scorching sun, some men were seen rowing boats in the middle of a large lotus pond in Me Linh suburban district to pick flowers. Just after a short while, all the boats were full of white and pink lotus flowers and they went ashore. The flowers were then quickly bundled before being delivered to merchants at the night market.
Khanh, the owner of the 60 hectare lotus pond, said: "It's not easy to develop a large lotus pond. Growing lotus is a hard job. We have to get up very early at 3-4 am and only finish at 9-10 pm."
The place in the past was just an uncultivated field, often flooded and capable of only one low-yield rice crop.
Khanh said his home village was famous for floriculture. In the past, he cultivated 7 sao (1 sao = 360 square meters) of roses. However, lotus cultivation requires more thorough care and higher techniques. Moreover, a large land area is needed.
At the time, people were no longer interested in farming because crops could not grow well, so he came up with the idea of leasing land from some people to grow lotus.
With land rent of 25 kilograms of unhusked rice per sao per annum, only half of the households leased their land to him, with a total area of 20 hectares.
Other households rejected his proposal as they feared they may not get financial compensation from the Government if the land was used for future investment projects.
It took him one year to clear the overgrown water hyacinth and grass, and improve the land. He started to grow lotus on part of the cleared land.
At first, he grew the lotus variety for seed, but the yield was low because of insects and mice, which caused a loss of VND100 million. The land plots were fragmented, which was difficult to cultivate.
But he did not give up. In 2018, he once again persuaded local people to lease their fields with more attractive commitments.
He has been expanding his lotus pond step by step, several hectares a year, and now has 60 hectares. Instead of growing lotus for seed, he now grows sen bach diep (Lotos Momo Botan) for flowers. This lotus is also used for tea. And he also grows sen bach lien, or white lotus.
Lotus has strong vitality and there are almost no pests so it is not too difficult to grow. He searched for documents on lotus cultivation on the internet and learned from his friends. This, plus his experience, helped his lotus pond develop well.
Khanh said the months from May to July are the busiest time. Pink lotus used for tea needs to be plucked at 4-5 a.m. when lotus buds bloom so as to preserve the fragrance.
White lotus can be plucked in the afternoon for sale at the night market.
"I collect 10,000 lotus flowers a day on average," he said, adding that all of the flowers are delivered immediately to merchants who wait ashore.
Because of the pandemic, lotus prices are lower, just VND2,000-2,500 per flower. However, the lotus for tea is still expensive, VND20,000 per flower.
Khanh estimates that he can harvest 1 million lotus flowers each crop, worth VND2.5 billion. So, he can make a profit of VND300-500 million after deducting cultivation costs.
He hires 20 workers to handle the work in high season. A person specializing in tea brewing is paid VND300,000 a day, while a worker rowing a boat to pluck lotus can get VND500 for every flower. 
Nhat Thanh

Vendors selling lotus flowers travel the streets in Hanoi as the flower season comes in late May.

Tam Da in Thu Duc City is arguably the best known lotus lake in HCMC.