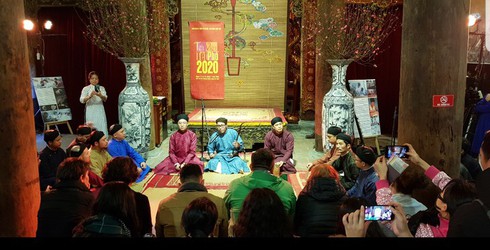 A traditional art performance by the Vietnamese Communal House group at Kim Ngan Communal House in Hanoi. (Photo: Ngoc Anh/VOV5)
Using Facebook, the Hanoi-based group works to preserve and uphold Vietnam's communal houses and other heritages.
Established in 2014, the Vietnamese Communal House group offers a venue for sharing information on the architecture, carving, decoration, history, and culture of communal houses.
It now has more than 16,000 members who are people of different social backgrounds living in Vietnam or abroad, but with a shared interest in communal houses.
Group members have visited communal houses to explore their architectural and cultural features, report back to the community, and sound warnings about risks of deterioration or damage by nature or humans.
Nguyen Duc Binh, the group's founder, said "Painter Tran Hau Yen The and architect Tran Trung Hieu are the group's administrators and two of our many researchers. Architect Hieu is working with others to publish books on communal houses, Buddhism, and symbolic patterns."
"Painter Tran Hau Yen The specializes in studying 'Nghe', a mythological lion and one of Vietnam's sacred symbols. A Thang Long-Hanoi fine arts book to mark 1010 years of the capital city of Hanoi and a collection of books on Vietnamese communal houses will be published this year," Binh explained.
In addition to conserving communal houses, the group has participated in preserving arts genres like Xam singing (blind busker singing), Xoan singing (spring singing), and "don ca tai tu" (amateur music).
Tran Thi Thuy Lan, Vice Chairwoman of the Hanoi Old Quarter Management Board, said the group's activities include exhibitions, conferences, field trips for students, and recreation of traditional holidays at museums, communal houses, and heritage sites.
"They have worked closely with us to organize events in downtown Hanoi, including the King Le Temple festival. One of the group's highlight activities has been preserving the traditional long dress for men. We will jointly organize more activities to preserve Vietnam's cultural heritage," said Lan.
Instrumentalist and culture researcher Tran Doan Lam, a group member, said "At last year's Lunar New Year, we participated in erecting a 'cay neu', a tall bamboo tree, at the communal house of Hanoi's Le Mat village. The ceremony created solidarity around the wish to protect traditional culture. We are pleased to see more and more people wanting to restore traditional cultural values." VOV