VietNamNet Bridge - There are rumors about the great features of the wine soaked poppy; some people grew opium at home as medical herbs.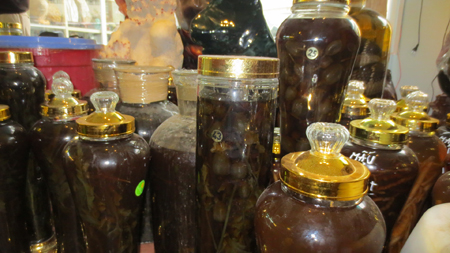 On March 23, Police of Phuc Tho district, Hanoi, discovered three local families growing opium in their gardens. The police seized dozens of opium trees and several jars of alcohol laced with opium.
An official from the Ministry of Public Security, there was false information about the great features of the wine soaked with opium, which urged some people to illegally grow poppy at their home, as medical herbs.
According to research by the Vietnam Institute of Traditional Medicine, poppy trees were previously used by Oriental physicians to treat disease. However, if alcohol containing poppies is too concentrated, it can cause fatal poisoning.
In early in 2013, the poison control center of the Bach Mai Hospital (Hanoi) received one female patient who was poisoned with opium alcohol. The woman was so sad because of love affair so she drank a whole bottle of wine without knowing that it was laced with opium. When being hospitalized, the patient had headache, laughed, vomited continuously and she was tested positive for drugs.
Le Ha