Hanoi has 'more than enough' money to develop modern transport under new investment model
The Cat Linh – Ha Dong elevated railway project provides a lesson on public asset valuation. Selling and buying back infrastructure projects at their real value will allow the effective usage of resources.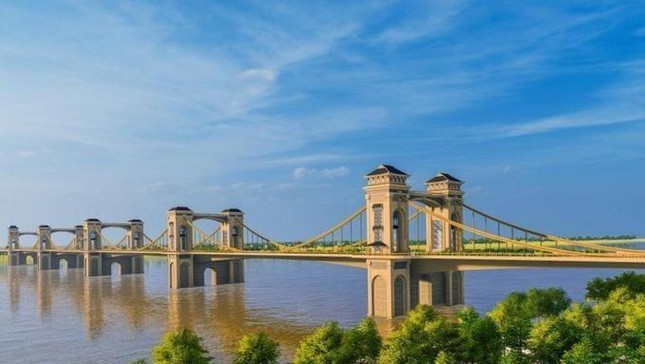 Under the Hanoi Transport Program by 2030 with a vision to 2050, the city plans to expand, upgrade and build hundreds of roads and dozens of bridges crossing Red, Duong and Da rivers, and 12 urban railways with total length of 460 kilometers.
The total investment capital for roads and railways is estimated at VND1.17 quadrillion. In 2016-2020, the city needs VND470 trillion, or VND100 trillion a year.
But the city's budget can satisfy only 5-7 percent of total capital needed for the entire infrastructure network. In addition to limited internal capital, Hanoi borrowed VND24 trillion worth of ODA (official development assistance) capital to build three new bridges crossing Red River (Vinh Thinh, Nhat Tan and Thanh Tri). It also built Vinh Tuy Bridge with its own capital, VND6 trillion for two investment phases.
As for urban railways, after 17 years (2004-2021), nearly VND30 trillion has been disbursed for 21 kilometers of railways. Meanwhile, VND955.853 billion has been disbursed for the Nam Thang Long – Tran Hung Dao section and VND1,064.350 billion for Yen Vien – Ngoc Hoi.
In November 2021, Hanoi put the 13.5 kilometer Cat Linh – Ha Dong railway into operation, which means 7 percent of the plan set for 2020 (13.5 out of 194 kilometers) has been implemented.
The total investment capital for transport projects in the 2016-2021 period, including the city budget and ODA loans, is estimated at VND100 trillion. However, only 20 percent of the required capital has been arranged. This means that in 2021-2025, the city needs VND400-500 trillion worth of capital, or VND100 trillion a year, for key projects.
New investment model 
The budget allocated by Hanoi authorities for transport infrastructure projects is sourced from exchanges of land for infrastructure. Large transport projects are paid in land. In 2017, Hanoi had tens of road, bridge and urban railway projects worth hundreds of billions of dong which were paid in land.
In 2018, the Ministry of Finance asked Hanoi to stop payment in land for projects. In May 2020, the municipal authorities announced they were revoking 82 projects.
Four projects, Vinh Tuy and Tran Hung Dao Bridges, Cau Chui Intersection and Belt Road No 3, cost a total VND15.601 trillion and are expected to be paid with 1,855 hectares of land.
The average land price is VND0.84 million per square meter), while the market price is VND50-120 million per square meter.
With the price of VND50 million per square meter, Hanoi just needs to exploit 1,000 out of 1,855 hectares to have VND50 trillion, which is enough to build four new bridges crossing Red River and the Cat Linh - Ha Dong elevated railway.
The problem is that the public land is undervalued, just 2-3 percent of the real transaction price, which results in the need 2-3 times more investment capital compared to initial estimates.
The Cau Chui Intersection project, for example, was reported as having the cost estimate of VND2,379.7 billion. However, the State Audit said the figure is VND1,300.4 billion, which means a gap of VND1,079.3 billion.
The asymmetric exchange model and the undervaluation of land leads to the exhaustion of public land resources. And transport projects have been stagnant for decades because of lack of funds or overexpenditures that are not commensurate with the investment value of projects.
If Hanoi changes the investment model and has accurate valuations of public assets to sell and infrastructure items to buy, it would have 'more than enough money' to build roads, buy vessels and put bridges across rivers.
Tran Hung Dao Bridge
One of the 82 projects above was revoked in May 2021 and was programmed in 2017 with estimated investment capital of VND7 trillion. If the project had been approved, the investor would have received 600 hectares of land in the communes of Dong Du and Duong Xa in Gia Lam district, and the wards of Cu Khoi and Long Bien in Long Bien district.
With the market price of VND50 million per square meter, the city would have to pay 300 hectares instead of 600 hectares, to get VND15 trillion, which is more than Nhat Tan Bridge (VND13.5 trillion), and higher than the total investment capital of the three bridges Vinh Thinh, Vinh Tuy and Thanh Tri combined (VND4.466 +3.597+ 5.700 =13.763 trillion.)
In June 2021, the former investor proposed building the bridge once again, but under the BOT (build, operate, transfer) mode with investment capital of VND8.9 trillion instead of VND7 trillion, with 50 percent of capital from the city budget. However, the proposal was rejected. Hanoi finally decided to organize an architectural design competition for Tran Hung Dao Bridge.
In current conditions, developing Tran Hung Dao Bridge as an underwater bridge will help solve a lot of problems, connecting the underwater railway with Gia Lam Station and reviving the entire national railway infrastructure system.
Underwater bridges are twice as expensive than floating bridges, but they create large underground spaces which have high value. If building an underwater bridge, Hanoi will have one more way to cross the river and won't lose thousands of hectares of valuable land.
The building of underwater bridges will require complicated techniques. However, this is within the capability of Vietnamese workers who have experience building the ThuThiem Tunnel in HCM City.
Tran Huy Anh 

The Hanoi Urban Planning Institute (HUPI)'s plan on underground space development will be appraised by the Hanoi Authority for Urban Planning & Architecture and submitted to the municipal authorities.

In the annual budget estimate submitted to the National Assembly, the Government always sets an increase in Vietnam's public debt payment obligations compared to the previous year.