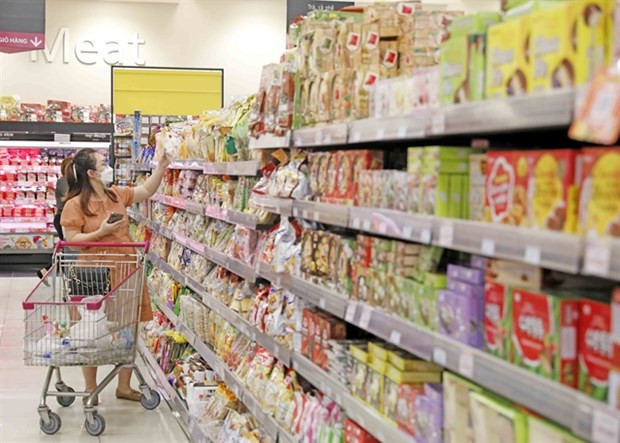 A resident buys food in a supermarket in Hanoi (Photo: VNA)
Quang Ninh ranked second on the list of the top five most expensive cities and provinces, followed by Ho Chi Minh City, Da Nang and Ba Ria-Vung Tau.
Meanwhile, Quang Tri was found to be the locality with the lowest Spatial Cost of Living Index in 2022, followed by Tra Vinh, Ben Tre, Soc Trang and Nam Dinh.
The Red River Delta retained its position as the most expensive region in the country, with the Northern Midland and Mountainous region and Southeast region following closely behind, according to the same report.
Explaining the living cost difference between the Southeast region and the Red River Delta region, the report said the abundant supply of goods in the former, which is the country's leading industrial centre with the largest number of industrial and processing zones, helped to bring down the cost of living here compared to the latter.
The southeast region offers cheaper prices for garments, hats, and shoes; education; household equipment and appliances; medicines and medical services; food and catering services; and transport compared to the Red River Delta region.
However, prices for housing, electricity, water, fuel, and construction materials; culture, entertainment, and tourism are higher in the southeast region.
The Mekong Delta region has the lowest cost of living, primarily thanks to the low prices of food and catering services. These prices are low due to the region's intensive farming methods and favourable soil and climate conditions for agricultural production.
Despite swift and unpredictable development in the global economy last year, the SCOLI index in 2022 in Vietnam did not change much compared to 2021, thanks in part to the Government's effort to manage prices.
The inflation rate was 3.15%, meeting the National Assembly's target. Consumer goods are abundant with a diverse distribution system, so the prices of goods and services in localities did not fluctuate much.
The SCOLI is a relative indicator that reflects the difference in consumer goods and service prices among localities and regions in a certain period.
The SCOLI index can be used as a reference for socioeconomic development policies to evaluate the results of poverty reduction policies.
Businesses can use the index to assess competitiveness in terms of prices, market share and product costs. In contrast, individuals can use it to negotiate wages and consider the possibility of migration between different regions./.VNS