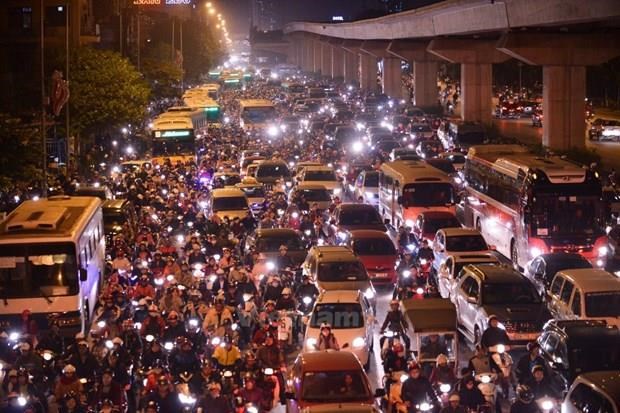 Hanoi is looking for solutions to reduce traffice jams.
Authorities in Hà Nội have announced a plan to charge vehicles in downtown areas to increase the use of public transport, according to a decision signed by Hà Nội People's Committee Chairman Nguyễn Đức Chung recently.
Motorbikes would also be banned from inner-city districts by 2030, the paper said.
These were some of the solutions put forward to develop the public transport network so as to reduce the percentage of individual vehicles by 20-25 per cent by next year, thus increasing the use of public transport and bicycles.
The collection of fees would also reduce traffic congestion and pollution.
Under the plan issued by the municipal authority, the city would continue to expand bus routes to outlying and popular areas such as new urban developments, shopping malls and entertainment centres.
The city will introduce between 46 and 51 new bus routes by next year, 21 of which would be established this year.
The city would also consider setting up priority lanes for buses while banning cars on some roads, to improve the service and attract more users.
According to figures by the Hà Nội Traffic Management and Operation Centre, last year 180,000 buses had to skip stops or change routes due to traffic congestion, accounting for 3.5 per cent of services.
This was impacting public opinion on buses in the city.
In fact, the number of passengers had dropped in two years of 2016 and 2017, the centre said.
Passenger numbers rose again last year.
The main reason for unstable passenger numbers was a lack of infrastructure for buses, a leader of the Hà Nội Transport Service Company (Transerco) said in the Kinh Tế & Đô Thị (Economy & City) Newspaper.
As they do not have priority lanes, buses were affected by traffic congestion so they often ran behind schedule.
In response, the public was shifting to use of private vehicles.
The city still plans to use buses as a key means of public transport in the future. So, if there were no priority lanes, buses will continue to be stuck among other vehicles on the roads, according to the Transerco representative.
Hà Nội Traffic Management and Operation Centre's director Nguyễn Hoàng Hải said: "There are concerns that current transport infrastructure is not suitable for establishing bus lanes."
"In fact, bus lanes would help attract more passengers because they would reduce delays," Hải said.
This would also help to cut the use of private vehicles, he added.
In order to encourage people to use public transport, bus and rapid bus transit (BRT) routes would be connected with the Cát Linh-Hà Đông Urban Rail Route.
The city would also build parking areas near bus and rail stations so people can easily transfer to public transport.
The city would also open mini-bus routes which could access small streets.
A project to expand the public bicycle network was also considered.
For inter-provincial coaches, the city has plans to rearrange stations and routes to connect them to inner-city bus and urban rail stations.
In HCM City, the transport department has also been studying a project for special lanes for buses on Điện Biên Phủ and Võ Thị Sáu streets.
Marking out priority lanes for buses was part of the programme of traffic jam and accident reduction in 2016-20 and a project of public transport expansion and private vehicle control in HCM City. — VNS