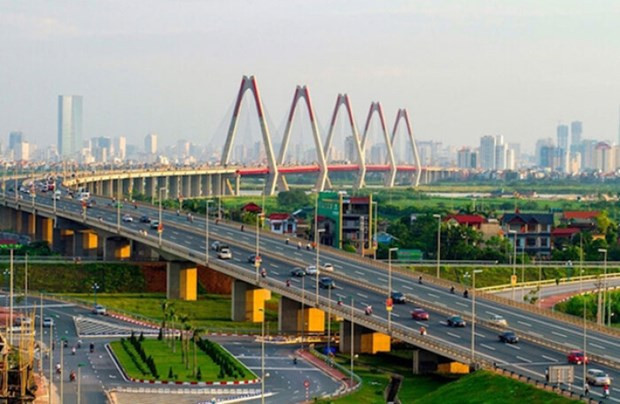 Hanoi's Nhat Tan bridge (Photo: hanoimoi.com.vn)
The economy of Hanoi is recovering gradually after the COVID-19 pandemic, thanks to drastic directions of the capital city's all-level Party committees and authorities and joint efforts of the business community and people.
Economic sectors continue to maintain their development momentum, of which, service and tourism see impressive recovery and development.
Six-month GDP increases by 5.97%
Right from the first days of this year, the municipal People's Committee issued an action plan and sped up the implementation of six key tasks. As many as 118 specific ones have been assigned to departments, agencies, People's Committees of districts and towns.
The city has determined this year's overall goals of promoting growth, stabilising the economy, controlling inflation, and focusing on comprehensive and synchronous development in all fields, and developing new growth drivers.
According to Vice Chairman of the Hanoi People's Committee Ha Minh Hai, in the first six months of 2023, the capital city's gross regional domestic product (GRDP) increased by 5.97%. Its total state budget revenue in the first five months reached 207 trillion VND (8.8 billion USD), equal to 58.7% of the yearly estimate and up 25.1% year-on-year.
Total social investment in the first half was estimated at 195.5 trillion VND, up 9% year-on-year. Notably, foreign direct investment (FDI) attracted was quite high, reaching 1.84 billion USD in the first five months of this year, exceeding the figure of the whole year of 2022.
During January-May, Hanoi had more than 13,000 newly established enterprises with a total registered capital of nearly 126 trillion VND, a year-on-year increase of 8% in quantity, thus bringing the total number of enterprises in the city to more than 362,000.
Hanoi also continues to promote communications and dissemination to implement the plan on supporting digital transformation for small- and medium-sized enterprises in Hanoi for the 2021-2025 period.
The database system of the capital city's enterprises is connected to the national database. According to statistics, 99.5% of businesses perform tax declaration online, and 99.1% of enterprises pay taxes online.
Le Nguyen Hong Phuong, Brand Director of Tuan 123 Real Estate Joint Stock Company, appreciated the support in procedures and policies that Hanoi has implemented in the past time to help enterprises restore their production and business activities.
The promotion of online tax declaration and payment has contributed to reducing costs for businesses, limiting negative problems, and simplifying procedures for taxpayers.
Towards equitable and pervasive development
Dinh Tien Dung, Politburo member and Secretary of the Hanoi Party Committee, said that Hanoi not only is determined to promote fast and sustainable economic development, but also aims for equitable and pervasive development.
The determination to promote the development of transport infrastructure, including the Ring Road 4-Capital Region project also aims to concretise that spirit, Dung said, adding that after a year of implementing the National Assembly's resolution on project investment policy, Hanoi plans to start construction on the project on June 25.
To date, procedures related to the project have been basically completed. With the current progress, within June, Hanoi is expected to complete about 80% of site clearance.
The city has also focused on stimulating cultural resources and investing in developing culture on par with economic development to make culture a new driving force.
Regarding public investment disbursement in 2023 and for the coming year, Vice Chairman Hai said that immediately after the meeting of the municipal People's Council in early July, the Party delegation to the municipal People's Committee will build and issue three plans: a disbursement plan for the last six months of 2023; one on implementing key projects, and another on accreditation and re-accreditation of standard public schools for the 2023-2025 period.
At the same time, it will build a concerted investment plan for water drainage, wastewater and waste treatment systems, and environmental protection in the city in the 2026-2030 period./.VNA