Hanoi's housing prices continued the upward trend during the first six months of 2022, while the new supplies, especially of affordable housing, remain low.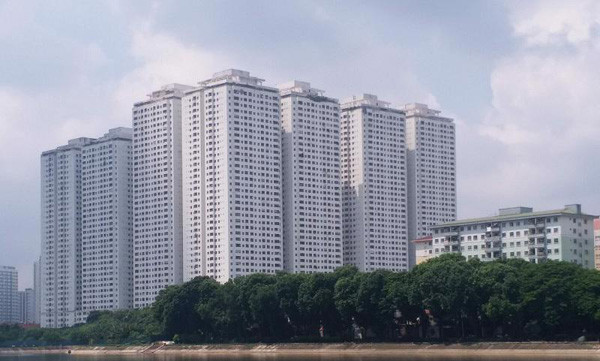 A report on the real estate market from CBRE noted during the first half of 2022, some 8,200 new apartments from 16 projects have been listed on the market, representing an increase of 3% year-on-year, but only three are new projects.
Among the lot, luxury apartments made up 55% of the new supplies while 53% of the new apartments for sale are in the West of Hanoi.
CBRE, however, noted that no new projects in the low to medium price range were put up for sale during the first half of 2022.
"Since the end of 2021, it seems that there are no more new projects in this market segment, since real estate promoters have changed their focus on medium to high price ranges," Vo Huynh Tuan Kiet, director of CBRE's housing department said.
In this context, the sale numbers have exceeded supplies with over 10,800 units, showcasing the high absorption rate of the market.
Retail prices on the primary market in the second quarter averaged US$1,872 per square meter (sq.m) (excluding VAT and maintenance fees), 27% higher than in the same period of last year.
Meanwhile, prices in the secondary market stood at an average of $1,293 per square meter, or an increase of 9% year-on-year.
Luxury property projects in Hanoi's downtown areas, including districts of Hai Ba Trung, Dong Da, and Ba Dinh, recorded price hikes of over 10%.
Regarding the segment of detached houses, the market witnessed 5,849 new products from five projects, tripling the figures in the first half of 2021. Market prices also surged from VND120 million ($5,141)/ sq.m to VND175 million ($7,300).
Prices remain high
Experts suggested the real estate market continue heating up from now until late 2022, mainly thanks to intensified sale activities.
Supplies are set to reach 20,000-22,000 new apartments but remain lower compared to the previous forecast due to delays in the completion of several projects that have been postponed to 2023 and subsequent years.
Such a low supply would result in high market demand for the foreseeable future, said Nguyen Hoai An, director of CBRE Vietnam – Hanoi branch.
According to An, the prospect of Hanoi's real estate market continues to be bright amid heightened risks from inflationary pressure and tightened credit sources in the sector.
"The Government's focus on infrastructure development and the involvement of major property developers from the South would make the market more attractive," An said.
Source: Hanoi Times