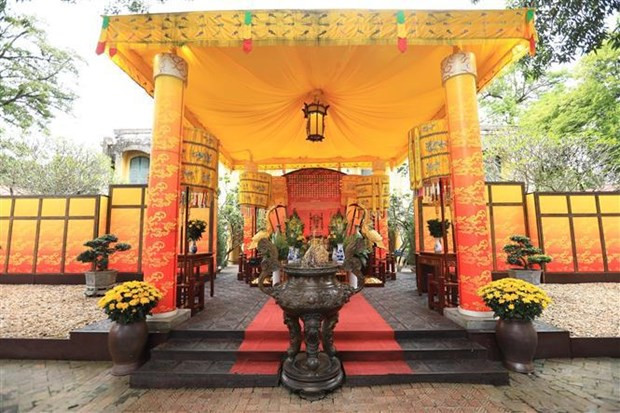 Kinh Thien Palace is the most important building of the Thang Long Imperial Citadel (Photo: VNA)
Secretary of the Hanoi Party's Committee Dinh Tien Dung on March 24 asked for continued support from the UNESCO World Heritage Centre (WHC) for a project to restore Kinh Thien Palace in the Thang Long Imperial Citadel in Hanoi, which was recognised as a UNESCO World Heritage Site in 2010.
He made the suggestion at a reception for the WHC's director, Lazzarre Eloundou, who is on a visit to Vietnam to attend a conference entitled "Promoting the role of world cultural and natural heritage in sustainable development in Vietnam."
Dung said as a "Heritage City" with an extremely rich and diverse cultural heritage fund, Hanoi has received great attention and help from the United Nations Educational, Scientific and Cultural Organisation (UNESCO) in cultural conservation and development.
He affirmed that the cooperation between Hanoi and UNESCO has contributed to promoting the cultural heritage and values as well as the unique images of Hanoi and the country and people of Vietnam to friends and the international community.
According to the official, Hanoi has strictly implemented the Government's commitments to the World Heritage Committee, especially those relating to expanding the archaeological excavation area in the Thang Long Citadel, and researching the value of architectural monuments of the Pre-Nguyen Dynasty on the central axis of the Forbidden Citadel of Thang Long.
The archaeological findings and research results have provided authentic evidence that has prompted the city to decide on the restoration of the main space of Kinh Thien Palace, Dung said.
This year, Hanoi will take the first steps in the roadmap to restore the main space of Kinh Thien Palace, thereby, helping people and international tourists have more opportunities to learn about the cultural history of Vietnam through the visualisation of the majestic and splendid main hall architecture representing the Thang Long Imperial Citadel – a symbol of the eternity of the country, the official said.
For his part, Lazzarre Eloundou highly appreciated the commitment of the Hanoi administration in preserving and promoting the heritages. He affirmed that Vietnam has been playing an active role in conserving world heritages and hopes that Vietnam will continue to promote its role.
He also said that his centre will exchange and coordinate with the Hanoi administration in the restoration of Kinh Thien Palace./. VNA