Hanoi seeks ways to reduce congestion caused by personal vehicles

The Hanoi Department of Transport recently held a seminar to discuss methods to reduce the number of private vehicles, with solutions centering on plans to limit motorbikes and charge tolls to cars entering central districts.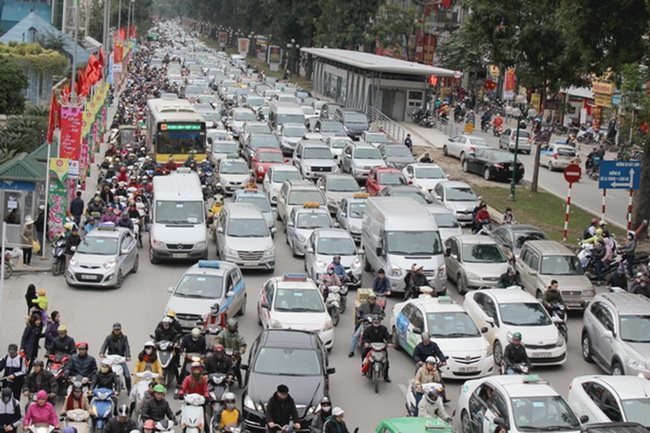 A road section crammed with vehicles in the capital city of Hanoi. The Hanoi Department of Transport held a seminar on October 25 to discuss methods to reduce the number of private vehicles – PHOTO: TIN TUC NEWSPAPER

The Transport Development and Strategy Institute under the Ministry of Transport said there are three obstacles to the limiting of motorbike traffic in inner-city areas, Thanh Nien newspaper reported.
These difficulties include phasing motorbike operations out in the downtown area by 2030, the public transport meeting at least 60% of commuter demand, and developing traffic infrastructure, which need to be ensured to complete the plan.
The city's transport department Vu Van Vien said that it is necessary to build a public transport system that can meet at least 60.5% of demand, before terminating motorbike traffic in central districts by 2030.
As such, by 2030 eight urban rail lines and 200 bus routes should be put into service. Besides this, other means of transportation may be used to replace personal motorbikes, including public bicycles, cabs, minibuses and contract cars, he said.
In the 2020-2030 period, with an aim to allow residents to "get used to" refraining from driving motorbikes, Hanoi City can restrict motorcycles from using some routes in central districts or some streets which have urban rail lines, according to a project presented by the city's Department of Transport.
The city will also widen sidewalks or walking spaces to encourage residents to walk to public transport stations. Also, motorcycles could be restricted during rush hours on high-traffic routes.
Apart from this, the project also includes a solution which limits new motorbike registrations in some central districts. Meanwhile, the prices of tickets for public transport will be lowered.
Nguyen Cong Nhat, deputy general director of Hanoi Transport and Services Corporation (Transerco), said that Hanoi City is facing an imbalance in the use of buses, motorbikes and cars.
Traffic jams in the city, including those occurring outside rush hours, have reduced the speed of buses to below 15 kilometers per hour, discouraging residents from using them, Nhat said.
To make buses more attractive to passengers, it is necessary to increase the speed of buses by opening priority roads for them, the representative of Transerco said.
Professor Tu Sy Sua noted that in 2020, the city will have only one bus rapid transit system-- Yen Nghia-Kim Ma-- and two urban rail lines, which have yet to be put into operation. The maximum capacity of these two types of public transport will amount to only 4%-5% of public demand. In addition, bus services in the city meet a mere 10% of commuter demand.
Given the poor infrastructure, increasing the number of types of public transport is a difficult task, Sua said.
As for the project to collect fees on vehicles entering central districts, the city will present different toll collection scenarios, with sliding fees based upon those vehicles causing traffic jams and environmental pollution.
Phan Le Binh, a lecturer at the Vietnam-Japan University, said that if no effective measures are adopted in the next five years, Hanoi City will face chronic traffic congestion due to the significantly increasing number of automobiles caused by declining prices. SGT
 

Hanoi is mulling two different options to restrict the use of motorbikes in the city before the 2030 ban.  

Eight more traffic hotspots have cropped up in Hanoi despite the city's efforts to improve infrastructure.