Hanoi sets up weather warning system

The Institute of Geophysics at the Ministry of Science and Technology has successfully built a modern warning and monitoring system to collect input data for forecasting heavy rain and flooding in Hanoi.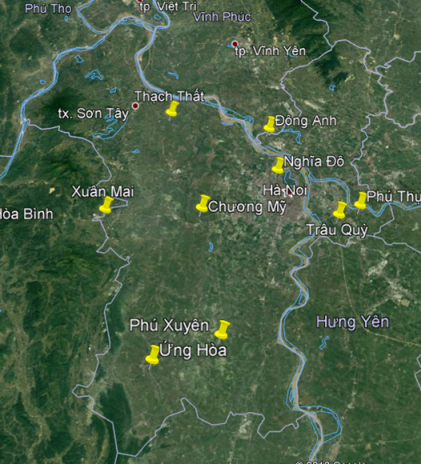 Map of the weather mollnitoring stations in Hanoi. Photo: Thanglong.chinhphu.vn
Under the "Fostering Innovation through Research, Science and Technology" (FIRST) project, which is funded by the World Bank and managed by the Institute of Geophysics, the system will support local people and authorities in actively preparing for natural disasters and limiting losses and damage.
This is the first innovative science and technology project the World Bank has funded in Vietnam.
The modern monitoring system includes two X-band radars, eight stations for measuring electric fields, two automated meteorological stations, ten automated stations for rainfall measurement, one unmanned aerial vehicle (UAV), one station for measuring cloud ceilings, eight satellite receivers, and three lightning warning stations.
The monitoring stations are located in the districts of Tay Ho, Cau Giay, Gia Lam, Dong Anh, Phu Xuyen, Ung Hoa, Thach That, and Chuong My.
After implementation, the Institute of Geophysics built a modern monitoring system to collect input data for the forecasting system.
The Institute has also established an advanced system for heavy rain and flood warnings and for delivering data to end users in the capital, with a view to assisting them in dealing with natural disasters such as thunderstorms, heavy rain, and flooding.
Staff of the Institute have been sent to Taiwan for specific training in the project and Australian experts have been invited to conduct training to enhance staff performance in atmospheric physics research.
The Institute will therefore boast high-quality human resources of regional standard to help improve capacity in weather warnings for Hanoi in particular and for other large Vietnamese cities in the future.
Vietnam has played a key role as a Regional Forecast Support Center (RFSC) after participating in the Severe Weather Forecasting Demonstration Project (SWFDP) in 2010 - part of an initiative by the World Meteorological Organization (WMO) to improve countries' capabilities in mitigating damage caused by severe weather.
It supports weather forecasting in the region and shares models that help warn of dangerous weather phenomena in Vietnam, Laos, Cambodia, Thailand, the Philippines and, recently, Myanmar.
Hanoi has been chosen as the forecast support center for weather phenomena for countries in Southeast Asia by the WMO.
The forecasts from RFSC Hanoi are also used daily by ASEAN member countries, further enhancing the official forecasts of members of the WMO. VN Economic Times

The declining demand for field-dried straw has triggered crop burning in Hanoi's outlying districts, leaving the city choking in haze.

People in Hanoi are buying expensive masks to protect themselves from serious air pollution.