Hanoi target urbanization rate of 75% by 2030
Urban planning is critical to Hanoi's socio-economic and urban development.
Hanoi is aiming to achieve a target urbanization rate of approximately 60-62% by 2025, and a further increase to around 65-75% by 2030.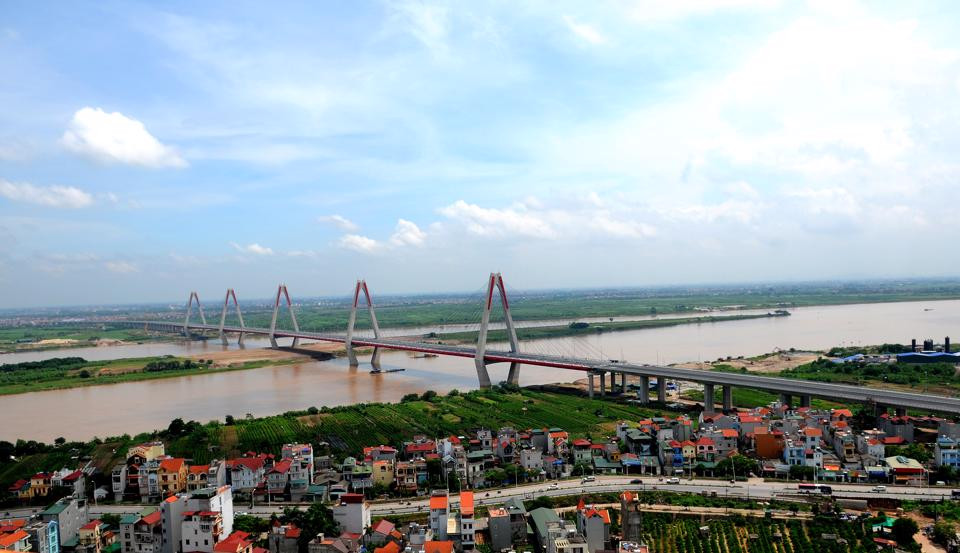 The Red river delta. Photo: Thanh Hai/The Hanoi Times
Hanoi aims to achieve a target urbanization rate of approximately 60-62% by 2025 and a further increase to around 65-75% by 2030.
The objectives include an action program issued by the municipal Party Committee that outlines its efforts to implement the Politburo's Resolution No.06-NQ/TW on the planning, construction, management, and sustainable development of urban areas in Vietnam up to 2030 and beyond, with a vision for 2045.
Other key objectives include expanding the urban construction area to about 30% of the total natural land area by 2025 and increasing it to 33-36% by 2030. The city intends to complete all district planning, satellite urban zoning plans, functional area construction zoning plans, detailed planning for renovation and reconstruction of old apartment buildings, and renovation program, embellishment, reconstruction, and urban development in the city by 2025. In addition, the city will establish a complete system of regulations related to planning and architecture management.
The Hanoi Party Committee has stressed the crucial role of long-term, integrated, and modern urban planning that prioritizes its citizens' well-being and quality of life, as well as urban culture and civilization, as the foundation for development.
It aims to improve the legal system by contributing to revising the Capital Law and implementing mechanisms and policies that promote sustainable urban development, leading to rapid and effective economic growth.
The city's Party Committee also seeks to harness the city's and society's resources by encouraging economic sectors, especially the private sector, to invest in urban development while strictly addressing any violations in implementing urban planning, construction, management, and development laws.
According to Nguyen Truc Anh, Director of Hanoi's Department of Planning and Architecture, Hanoi has stepped up its planning efforts, approving several key plans in the past year, most notably the Red River and Duong River zoning plans.
"After years of longing, city authorities and residents now have a legal framework to renovate, beautify and reconstruct existing residential areas while preserving valuable monuments and architectural works on both sides of the Red River," Anh said.
Echoing Anh's sentiments, Luu Quang Huy, director of the Hanoi Institute of Construction Planning, said that the approval of the Red River and Duong River Urban Development Plans is a long-awaited milestone not only for the people of Hanoi but also for the city's planners over the past two decades.
"This is a crucial first step in turning the vision of a modern, cultural, and green city on both banks of the Red River into a tangible reality," Huy said.
In addition to the two zoning plans, Hanoi also approved several planning projects in 2022 that had previously been postponed due to their difficulty and complexity. These include the General Planning of the Urban Underground Construction Space in the city center by 2030, with a vision to 2050, and the Planning of Parking Lots, Logistics Centers, and Rest Stops in Hanoi by 2030, with a vision to 2050. In addition, the city has approved the planning of six satellite urban subdivisions in Xuan Mai and Phu Xuyen.
Planning a critical part of socioeconomic development
While much progress has been made in the planning process, Nguyen Truc Anh, Director of the Hanoi Department of Planning and Architecture, acknowledged that insufficient financial resources have led to a lack of coordination in the city's planning of construction investments, particularly in the transportation system (such as ring roads, radial roads, and urban railways).
As a result, the city is experiencing traffic congestion, overpopulation, and public dissatisfaction, he said.
To achieve the 2023 urban planning goals, Anh said his agency to focus on researching and advising the Municipal People's Committee to guide and promote urban construction planning. This includes adjusting the overall master plan for Hanoi's construction to 2030 with a vision to 2050, completing district construction plans, and zoning the remaining satellite urban areas.
In addition, they will adopt regulations for architectural management and urban development programs and strengthen the formulation of urban designs and detailed planning for functional space areas.
"Urban planning is critical to Hanoi's socioeconomic and urban development. In the coming years, Hanoi will step up efforts to complete many important planning tasks, such as preparing and adjusting the Capital Construction General Plan, planning the city from 2021 to 2030 with a vision to 2050, and developing a citywide urban development program for 2030 with a vision to 2050," Anh said.
Other key objectives under the municipal Party Committee's action program include:
- A 12-15% ratio of urban land (including static traffic) to urban construction land by 2025, increasing to 15-20% by 2030.
- The rate of public passenger transport will reach about 30-35% by 2025 and about 45-50% by 2030, while the average green tree area per urban dweller will reach around 7.8-8.1m2/person by 2025 and 12-14m2/person by 2030.
- The average residential floor area per capita in urban areas is expected to be 31m2/person by 2025 and 33m2/person by 2030.
- 100% of municipal solid and hazardous solid waste by 2025 will be treated, while the urban wastewater treatment rate will reach at least 50% by 2025 and 60% by 2030.
- 100% of households will have access to clean water.
- In terms of healthcare, the city will renovate, upgrade, and invest in new construction of hospitals, prioritizing the early completion of four large general hospitals at the city's gateways to achieve a target of 30-35 beds/per ten thousand people by 2025.
- The city aims to achieve an average GRDP growth rate higher than the national average between 2021 and 2025 at 8.0-8.5% per year between 2026 and 2030 and a per capita GRDP of US$12,000-$13,000.
Source: Hanoitimes