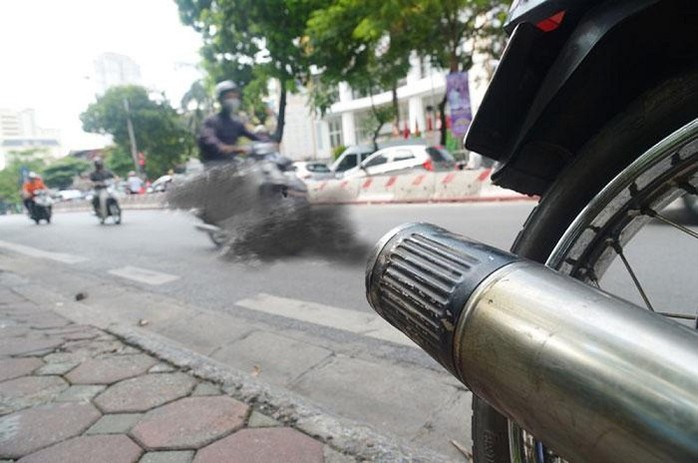 The Ha Noi Department of Natural Resources and the Environment has recently reported outcomes of a program which measured emissions of motorbikes and proposed roadmaps to measure emissions.
Accordingly, in 2023, authorities would build frameworks and issue plans to manage motorbike emissions and look into "area classification" measures to protect air quality and restrict motorbikes.
In the 2024-2025 period, annual evaluation of motorbikes that have been used for at least five years would be implemented. The city is also looking into using stamps to differentiate such vehicles.
After trials are completed, starting in 2026, motorbikes used for at least three years would have to undergo regular emission evaluation, and those that fail to meet emission standards would see restricted access.
The Capital would also consider charging vehicles for their emissions.
A system on motorbike emission control would be built, comprising 170 fixed and mobile inspection stations.
Exceeding emission limits
According to a previous one-month survey conducted last August, random emission checks on over 5,200 vehicles used for at least five years showed that they tended to release more emissions than they should.
Eight motorbike stores operated by Honda, Yamaha, Suzuki, Piaggio and Sym across six districts measured the emission of customer motorbikes.
Owners of motorbikes registered before 2017 were offered to receive free oil cans, while those that do not satisfy emission standards would receive maintenance coupons. Owners of motorbikes registered before 2002 were supported with up to VND4 million to buy new vehicles.
As of this July, the city was home to over 7.6 million vehicles within the city, including over a million cars, around 6.5 million motorbikes and 180,000 electric motorbikes, according to data from the Department of Transport. The figures excluded vehicles of people from other localities circulating in the Capital.
Viet Nam will start imposing restrictions on the manufacture and import of vehicles using fossil fuel from 2040, according to a government program on energy transition./.
Source: VGP