Hardcore Melbourne band to rock capital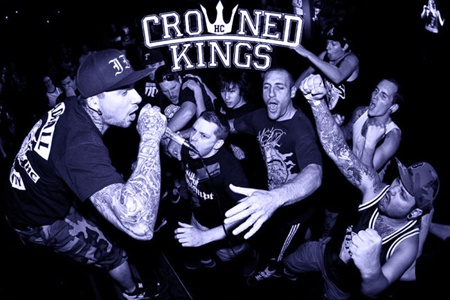 Crowned Kings – a hardcore music band from Melbourne, who are making their way across Asia, will have a Saturday night performance in Ha Noi.
During the evening, their performances will include songs written about current social issues, relationships and the things that mean the most to the band – hardcore music.
All of the members come from a background influenced by punk, hardcore and metal bands, but all know that hardcore is the most important music in their hearts, and through this, they have formed a strong bond to find their niche with the style of music they create.
The band will rock the stage at Hanoi Rock City, 27/52 To Ngoc Van Street, from 7-11.55pm. Tickets for the show are available at door.
Picture books on Hoang Sa – Truong Sa published
The first in a ten-volume picture book series named Than Dong Dat Viet: Truong Sa va Hoang Sa (the Vietnamese child prodigy: Spratly and Paracel) has been published by Phan Thi Company.
The ten-book series is Vietnam's first publication to provide Vietnamese children with some awareness of the island sovereignty issue.
The story line was based on official documents, and includes historical details related to Vietnam's Hoang Sa and Truong Sa archipelagos.
The content focuses on four children named Ti, Suu, Dan and Meo. The books were designed to instill a fondness for learning about Vietnam's sovereignty over its sea and islands through lively illustrations.
The Phan Thi company of Ho Chi Minh City is expected to publish further volumes of the series on a quarterly basis.
Famous opera Tosca to be screened
A screening of the famous classic opera Tosca by the great Italian composer Giacomo Puccini will be held on Friday night at the Hanoi Cinematheque, 22A Hai Ba Trung Street.
It first premiered on January 14, 1900 at the Teatro Costanzi theatre in Rome. The three-act opera is based on the 1887 French-language dramatic play, La Tosca by Victorien Sardou.
The opera will be screened in its original language with English subtitles.
Religious values in Vietnam's culture spotlighted
Heritage values of religious diversity and their contributions to the Vietnamese society occupied the top position at an international workshop in Hanoi on September 25.
Co-hosted by the Government Committee for Religious Affairs and the European Union delegation to Vietnam, the event is part of the comprehensive Vietnam – EU partnership and cooperation agreement to bolster bilateral ties.
Participants analysed Vietnam's achievements in promoting and ensuring religious freedom, legal framework on beliefs and religions, and Vietnam's commitments to protecting and promoting human rights, including religious freedom.
They also looked into the EU's experience and working models of religious sects.
Addressing the event, deputy head of the committee Nguyen Thanh Xuan stated that Vietnam is home to major religions such as Buddhism, Catholicism, Islam and Caodaism whose heritages are enriching the Vietnamese culture.
Ambassador and head of the EU delegation to Vietnam Franz Jessen made it clear that religious freedom is a fundamental human right and a topic of mutual interest of Vietnam and the EU.
Up to 80 percent of the Vietnamese population perform religious practices. 24 million of them from 40 religious groups recognised by the State.
In Hanoi, guest chef presents flavours from Venezuela
Famous chef Tamara Rodriguez from Venezuela has been showcasing her cooking talents during an event dedicated to Venezuelan cuisine.
Hosted by the Embassy of Venezuela in Vietnam, the event titled "Aroma and Flavour from Venezuela" aims to promote Venezuelan culture and cuisine.
Inspired by a combination of indigenous, European, African and even Asian influences, Venezuelan cuisine is a diverse blend of flavours and colours.
During the six-day event, chef Rodriguez, who takes much of her inspiration from traditional eastern Venezuelan cuisine, delights connoisseurs with different menus to show the culinary heritage of the Latin American country.
The promotion runs until September 28 at the El Patio Restaurant of Media Hanoi Hotel.-
First Chau Van singing festival opens in Hanoi
The first festival of Chau Van singing opened in Hanoi on September 25, aiming to give participants an insight into the nation's special traditional art form.
Chau Van, which was created during the Tran Dynasty (1225-1400) and assumably originated from the northern province of Nam Dinh, is mostly performed at temples and pagodas.
The highly rhythmic and trance-oriented form of singing often accompanies "hau dong" (mediumship) during the rituals to honour Mother Goddesses and connect to other gods.
The music and poetry performed in the folk art are mingled with a variety of rhythms, pauses, tempos, stresses and pitches.
The genre has also adopted folk songs from the uplands and highlands throughout the country.
The main musical instrument used in the genre is Dan Nguyet or moon-shaped lute.
The first phase of the event will run until September 30, while the second one will draw the participation of 10 art troupes to perform in the capital from October 4-5.
A number of seminars will be held during the festival to discuss ways to preserve and uphold the values of Chau Van singing in modern society.
The municipal Department of Culture, Sports and Tourism and relevant agencies are working together on a dossier seeking UNESCO's recognition of the traditional singing genre as an Intangible Culture Heritage of Humanity.
Street festival to stir up capital's youth
A youth street arts festival on Saturday is expected to attract hundreds of young people, said a Ha Noi Youth Union official. It will be at Lenin Park with four entrances on Tran Nhan Tong, Nguyen Dinh Chieu, Le Duan and Dai Co Viet streets.
According to Nguyen Van Thang, the festival will feature three types of street entertainment - skating, freestyle football and hip-hop dancing.
"The festival is to promote street arts in Ha Noi," he said, "It's a chance for young people to compete and share passions in a modern healthy way."
The organisers have already received more than 100 registrations from individuals and teams wishing to take part.
The event is part of a series of "I Love Ha Noi" activities initiated by the union.
Vo Viet Chung focuses on environmental protection in new collection
Designer Vo Viet Chung will launch fashion project Blue Ocean World at Bamboo Village Resort in Phan Thiet City today and tomorrow to raise public awareness on environmental protection.
Chung will debut 20 items from his 'Ocean Color' collection, featuring outfits in sea colors with images of coral, seaweed and starfish. The collection depicts a painting of an unpolluted ocean with the message to call on the public to protect the environment.
Some items such as ao dai (Vietnamese long dress), scarves and shoes as well as jewelry will be auctioned to raise funds for the project.
Organizers will also hand in medicine and T-shirts for poor people in the coastal region. Then they will hold activities such as cleaning up the beaches, delivering recycled environmentally-friendly nylon bags to the public as well as encouraging them to release small marine species into the sea in order to keep the biological balance.
Hanoi to kick off Vietnam-France Music Festival
On occasion of the 40th anniversary of diplomatic relations between Vietnam and France, a large-scale music festival will be held at Hang Day Stadium in Hanoi on October 12.
Accordingly, the Vietnamese audience will have a chance to enjoy special musical performances with attendance of talented artists from France and Vietnam during the festival.
Besides, the festival will be attended by two outstanding singers from Vietnam and France, including singer La Grande Sophie and Thanh Lam. Organizers said, Musical programs are being produced by Philippe Bouler and ATC International Team and supported by the French Embassy in Vietnam and the French Culture Center.
Audiences will also enjoy traditional folk instrument performances by folk artists like Quang Minh, Hamon and Martin, Viet Vo Da House, Le Cat Trong Ly, Leila Bounous, electronic rock band Poni hoax and others.
Con Son- Kiep Bac festival attracts large crowd
Opened on September 14, the ten-day festival featured a broad range of traditional spiritual rituals and cultural and sporting activities to commemorate the 713rd anniversary of the passing of National Hero Tran Hung Dao (1228-1300), who made great contributions to the fights against Yuan-Mongol invaders from the north in the 13th century.
The activities included incense offering ceremony, military festival and lanterns night on Luc Dau River, a festival to pray for peace, and the seal opening ceremony at Kiep Bac temple.Traditional games such as wrestling, boat race, and a rice cooking contest were also held during the festival.
Covering an area of more than 8ha in Chi Linh town, the Con Son – Kiep Bac historical site is closely associated with the lives and careers of Tran Hung Dao and Nguyen Trai (1380-1442), who was recognised as a Great Man of Culture of the World by UNESCO in 1980.
The area witnessed important battles between the Tran dysnaty army and the Yuan-Mongol invaders.
Con Son – Kiep Bac was recognised as a national heritage site in 1962 and a special national heritage site in 2012.
The Con Son – Kiep Bac spring and autumn festivals were recognised as national intangible cultural heritage in 2012.
Photo exhibition highlights Vietnam-Italy solidarity
A photographic exhibition opened at the Ho Chi Minh Museum in Hanoi on September 25, featuring the solidarity movements of Vietnamese and Italian people during the 1960-1970 period.
The three-day event was jointly held by the Vietnam Union of Friendship Organisations (VUFO), the Vietnam-Italy Friendship Associations (VIFA) and the Italian Embassy in Vietnam.
VIFA Secretary General Nguyen Van Nam said this year marks the 40th anniversary of the two countries' diplomatic ties and sees the upgrade of their relations to a strategic partnership.
He spoke highly of the strong support from the Italian people for Vietnam's past struggles for national independence, and reunification in 1975.
Italy was among the first European countries to recognise Vietnam's republic democracy – the Socialist Republic of Vietnam nowadays, Nam said.
He also expressed his hope that Vietnam-Italy strategic partnership will provide fresh opportunities for mutually beneficial cooperation, as well as for peace, stability, friendship and development of other nations around the world.
Both nations have launched diverse celebratory activities for the 40th anniversary their diplomatic ties this year including the Vietnam Days in Italy and the Italy House in Vietnam.
Italian Ambassador to Vietnam Lorenzo Angeloni highlighted the significance of the ongoing photo exhibition, saying how it closely connects the past to present and future.
The exhibited photos show remarkable contributions from the Italian people to Vietnam's struggles for national liberation in the past, helping younger generations gain a better understanding of international solidarity among people around the world, he noted.
Vietnam, Laos, China to hold "con" throwing festival
The city of Dien Bien Phu in the northern province of Dien Bien is geared up for the third " con " (colourful fabric ball) throwing festival slated for October 25-27, with locals from neighbouring Laos and China.
As many as 1,500 participants, including about 85 from the guest Chinese district of Jiangcheng (Yunnan province) and 60 from the Lao district of Nhot U (Phongsaly province), will take part in the festival, which is the first of its kind held in Dien Bien Phu.
Apart from "con" throwing" competitions, the festival will also feature folk games, a cooking contest, a costumes beauty pageant, a trade fair on Vietnamese consumer products, and cultural exchanges.
Earlier, the event took place in China's Jiangcheng district.
Influenced by the Thai ethnic group's culture, districts of Muong Nhe and Muong Te in Dien Bien and Lai Chau together with its neighboring localities of Laos' Nhot U and China's Jiangcheng take turns organising the festival each year.
During festivals and New Year holidays of the Thai ethnic group, "con" hurling is an indispensable folk game. It is often held on a spacious and flat ground where a 15-20m high bamboo pole is erected. Its top is tied with a five-coloured flag and a bamboo-made ring wrapped in red paper that serves as the target.
According to Lo Van In, a Thai culture researcher in Dien Bien, "con" symbolises Yang while the bamboo ring embodies Yin. The game shows the harmony of Yin and Yang so that couples who wish to have children excitingly compete in the game to pray for a child.
HITS hold auditions for upcoming production
On Sunday, the Hanoi International Theatre Society will conduct an audition for their upcoming production.
The audition is open to all, so even if you have never acted before, give it a thought.
The selection will take place at Chez Xuan, No 41, Lane 76, An Duong Street, from 3-5pm. For more information, contact: hits.hanoi@gmail.com.
Charitable festival to showcase artists
The Saigon Outcast will host the third Melting Pot Art Festival on October 5. The two-day festival will include exhibitions featuring paintings, ceramics, woodcut prints, photos and handmade accessories by expatriate and local artists and organisations.
Other activities include an auction, a photo booth, face and stone painting and Halloween craft table.
Live music and dance will be performed by DJs and groups such as Joey T, Emily Navarra, White Noize and Freckled Gypsys.
The event will raise money for dance programmes and facilities for the Tephan School for physically impaired children in District 3, and the Thien An School for visually impaired children in Tan Phu District.
The festival will open from 12am to 10pm each day at 188/1 Nguyen Van Huong Street in District 2.
Iwasaki Chihiro's children, flowers come to Hanoi
'Iwasaki Chihiro and Vietnam' by late Japanese artist Iwasaki Chihiro will open at the Japan Foundation Center for Cultural Exchange in Vietnam on Saturday. The exhibit is co-organized by the foundation in cooperation with the Chihiro Art Museum.
It introduces 40 selected works, with 32 making their first appearance in Vietnam, in Piezographs.
They are in three themes: children, flowers and picture books. Chihiro, who died in 1974 of liver cancer aged just 55, was and still is one of the most beloved Japanese artists/illustrators around the world, and is celebrated for her unique feathery expression combining an Eastern Indian-ink painting with a Western watercolor painting.
Chihiro believed that she could distinguish a 10-month baby from a one-year-old skillfully in her paintings, and that she could draw any posture of a child without a model. Naturally, children in Chihiro's paintings are highly animated and deeply expressive, with plenty of inner emotions.
Along with children, flowers were also Chihiro's major favorites. She grew many kinds of flowers in her garden and the flowers seasonally flourishing were a resource of her imagination.
Throughout her career, Chihiro wrote about 40 picture books inspired by Japanese and Han Christian Andersen fairytales and daily lives of children and babies.
"Children in the Flames of War" is one of Chihiro's most important works in which she not only drew the illustrations and also wrote the text. The work is inspired by the American War in Vietnam.
Chihiro was throughout her life haunted about children's happiness and peace, leaving behind the words in her final years, "May Vietnamese children, Japanese children and children all over the world live in peace and happiness".
Moreover, there is "Chihiro, a painter connection Japan and Vietnam: True love to peaceful, plentiful, beautiful and cute things", a talk lectured by Yuko Takesako, deputy director of Chihiro Art Museum Azumino at 10 a.m. on Saturday.
The show will run until October 27 at the foundation, 27 Quang Trung Street in Hanoi.
Dragonfly Theater hosts 'Dangerous Liaisons' in Q4
Dragonfly Theater will present Broadway play "Dangerous Liaisons", a thrilling tale of seduction, betrayal and revenge set in the morally corrupt world of the aristocracy of pre-revolutionary France on October 11, 12, 18 and 19 at Q4, 7 Nguyen Tat Thanh Street in District 4.
Saigonese will have a chance to witness cultivated, discerning and daring characters as they are transported back in time to a debauched and decadent 18th century France and a night of love and lust, heartbreak and tears, and ultimately, painful redemption.
Dangerous Liaisons was made into a 1988 Hollywood movie starring Glenn Close, John Malkovich and Michelle Pfeiffer based on Christopher Hampton's play Les liaisons Dangereuses, which in turn was a theatrical adaptation of the 18th-century French novel Les Liaisons Dangereuses by Pierre Choderlos de Laclos. It follows a couple who use sex to lure and cheat others.
The play was premiered for the first time by the Royal Shakespeare Company at Stratford-upon-Avon in the U.K. before becoming a huge Broadway hit and then exported to many countries around the world.
Last year, Chinese director Jin-ho Hur made a movie based on the production starring Cecilia Cheung, Dong-gun Jang and Ziyi Zhang.
Dragonfly Theatre is a professional English language theater group based in Saigon, founded by Jaime Zuniga from Argentina and Aaron Toronto from the U.S. Its past performances include 'The Importance of Being Earnest', 'The Last 5 Years' and the hugely popular 'The Little Prince'.
The play contains mature content so young people aged under 16 must be accompanied with parents.
Seats cost from VND300,000 to VND1 million (available for a limited number of luxury seats in close proximity to the stage, including one complimentary drink). There are also a limited number of student seats priced at VND100,000.
'Lighting' to color Hanoi
The dance spectacular 'Lighting' will be held at the Youth Theater in Hanoi on Friday and Saturday.
It has been drafted by choreographer Anna Konjetzky for five European and five Vietnamese dancers from the Vietnam National Opera and Ballet.
The performance illustrates the lighting of a movement in a group of people. Evolving from a small gesture, the motion of a hand, that spreads out over the group and captures more and more people, a bigger movement develops – just like a fire, originating from tiny sparks, becoming higher and brighter. Ten dancers let this movement come alive by passing on energy through their bodies and at the same time concentrating it, creating a growing concentration of power.
The focus in 'Lighting' is on the dancers' gestures and bodies: elemental movements are multiplied by ten, shining more light on them, suddenly it appears capacious and develops a momentum of its own. The music is composed of electronic and instrumental melodies and tones generated from the dancers' movements and presented via an 8-channel-sound system, filling the room with intense sounds.
Konjetzky, born in 1980 is one of the most renowned choreographers of her generation. She studied contemporary dance in Brussels and Berlin and since 2005 she has compiled dance performances and installations with international artists from various fields.
Admission is free with tickets available at Hanoi Goethe Institute at 56-58 Nguyen Thai Hoc Street, L'Espace at 24 Trang Tien Street and Japan Cultural Exchange Center in Vietnam at 27 Quang Trung Street, as well as British Council at 20 Thuy Thue Street in Hanoi.
Cinderella comes to town
HCMC Ballet Symphony Orchestra and Opera (HBSO) will perform contemporary ballet 'Cinderella' by Norwegian choreographer Johanne Jakhelln Constant at HCMC Opera House at 8 p.m. on October 12 and 13.
The ballet is based on the fairytale about the poor, young girl who magically finds her prince.
Constant choreographed more than 40 ballets, including full-length ballets The Nutcracker, Cinderella, Coppelia and The Sleeping Beauty, in her spell with the Artistic Director of Ballet Quad Cities in the U.S. from 1997-2006. She was given three choreography awards for her original works Chairished and Flickering Blue.
She graduated from The National Dance Program of Fagerborg High School in Oslo, she holds a BFA in Teaching of Classical Ballet and Contemporary Dance from The University College of Dance in Stockholm (Sweden) and an MFA in Dance Performance from the University of Iowa in the U.S.
Tickets are priced at VND650,000, VND400,000 and VND150,000 and available at the Opera House, 7 Lam Son Square, District 1.
Scientists gather for La Main à la Pâte educational conference
In the framework of France-Vietnam Year, the French Embassy in Vietnam, the Ministry of Education and Training and La Main à la Pâte Foundation in Paris will cooperate with the Vietnam Institute of Educational Sciences to organize the fourth regional conference 'La Main à la Pâte'.
The event will take place from today until Friday at the office of the Vietnam Institute of Educational Sciences, 101 Tran Hung Dao St., Hoan Kiem District in Hanoi.
The conference will focus on scientific teaching based on the foundation of searching and discovering with the participation of lecturers from Laos, Cambodia and Vietnam as well as educational experts and university professors of the three countries.
The opening conference will be hosted by elite professor Pierre Léna from the Paris Diderot University, who is also a member of the French Academy of Sciences and president of the foundation of scientific cooperation La Main à la Pâte.
Deputy Minister of Education and Training Nguyen Vinh Hien and representatives from Bordeaux IV University and the Meeting Vietnam association also attend this year's event.
Scientists from France, Cambodia, Laos and Vietnam will talk about topics related to scientific teaching in each country's education system.
Source: VNA/VNS/VOV/SGT/SGGP/Dantri/Nhan Dan