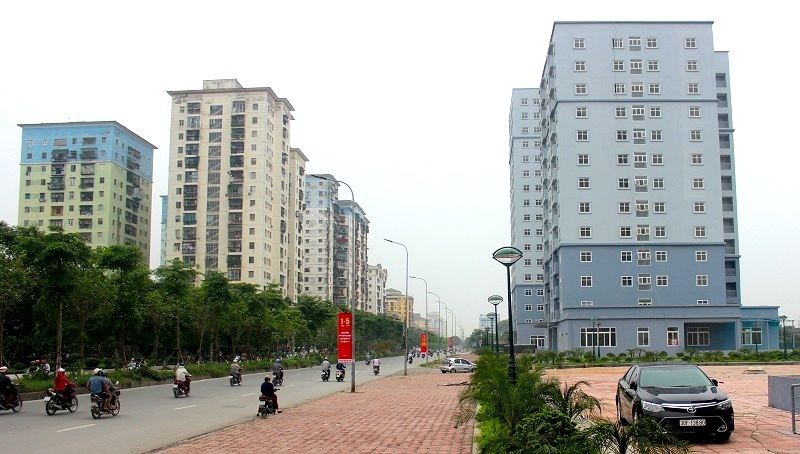 Hanoi will continue reviewing housing projects and new urban areas where have sold houses and apartments to foreign individuals and organizations in order to ensure the compliance with the housing regulations of Vietnam.
This is a key instruction in the implementation of housing and real estate market policy in the capital city recently given by Duong Duc Tuan, Vice Chairman of Hanoi People's Committee.

"We will strictly control foreign investment in the real estate area as well as their transfer of collected money abroad to prevent money laundering, transfer pricing and tax evasion," Tuan noted.
According to Hanoi Department of Construction, in 2019-20, there were 60 housing projects allowing foreign ownership of houses or apartments in the city's districts of Hoang Mai, Ha Dong, Nam Tu Liem, Bac Tu Liem, Thanh Xuan, Cau Giay, Ba Dinh and the outlying districts of Hoai Duc and Gia Lam.
Local insiders have commented that many foreigners are interested in premium projects in Hanoi and Ho Chi Minh City, where are not affordable to the majority of Vietnamese people.
Le Hoang Chau, Chairman of the Ho Chi Minh City Real Estate Association, estimated that 17 leading real estate developers have sold a total of 12,335 houses to foreigners in the 2015-20 period, of which more than 10,000 units were sold in HCM City.
The number of houses owned by foreigners accounted for less than 1% of the total houses of the commercial housing projects. Under current regulations, foreigners can own less than 30% of the dwelling houses of a housing project, Chau added.
"The real figures sold to foreigners in the 2015-20 period was relatively modest," Chau said.
Under Document No. 1203 of the Central Steering Committee on housing policy and real estate market, Hanoi and Ho Chi Minh City will continue to focus on the improvement of institutions governing the housing and real estate market, overcoming the overlaps between current laws.
hanoitimes

Minister of Construction Nguyen Thanh Nghi said the ministry will change the policies related to the development of affordable housing by adopting a new mindset.