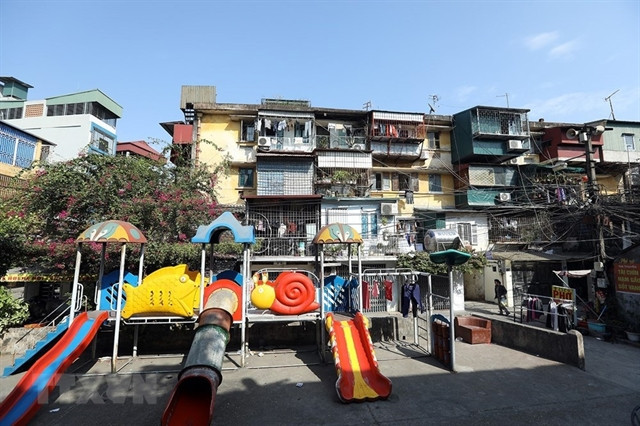 An old residential complex in downtown Hà Nội. VNA/VNS Photo
Of which, commercial housing was estimated at VNĐ250 trillion, individual household units VNĐ65 trillion, social housing VNĐ12.5 trillion and resettlement housing VNĐ9.5 trillion.
A large portion of the money for social and public projects will likely come from the State budget, estimated at a total of VNĐ5.8 trillion. The city has plans to convert the Pháp Vân-Tứ Hiệp student housing complexes into social housing units as well as the construction of a number of other worker housing complexes in the near future.
Another VNĐ4.86 trillion was to be reserved for five resettlement units. The city's budget for inspection and repairs of old residential complexes was estimated at VNĐ641 billion.
According to the city's People Committee, Hà Nội encourages the private sector to participate in the development of new commercial housing projects, as well as the repair and repurpose of old and existing residential complexes as part of an effort to bring the city's average living space per capita to 29.5 sqm by the end of 2025.
In order to realise the mentioned-above objective, Hà Nội will have to reach 44 million sqm of housing in total. Of which, over 1.21 million sqm will be social housing.
Measures have been taken to make the most out of resettlement projects, which had the potential to unlock more than 0.5 million sqm of living space. Meanwhile, many large old residential complexes in Giảng Võ, Thành Công and Ngọc Khánh areas must be razed and rebuilt.
The committee said in order to keep up with demand, the capital city needs to build 4.5 million sqm of living space per year. In addition, the city's authority has been told to improve construction quality in future projects.
There are 109 housing projects set to finish the construction phase across the city with a total living space of 19.43 million sqm during the 2021-25 period.
Social housing
While social housing projects and the city's public infrastructures are prioritised to access the State's budget, the Ministry of Construction has voiced concerns over a lack of participation from the private sector, as well as local governments.
The ministry has recently readjusted an objective to build 1.4 million social housing units by the end of 2030 to just 1 million, citing difficulties in securing the required financial investment.
Earlier this month, the ministry sent in a request to the central government to set up a preferential loan budget of VNĐ111 trillion for the development of social housing projects, which was said to boost the rather bleak-looking property market. The budget is to be earmarked to provide buyers and developers with low-interest loans.
Meanwhile, the State Bank of Vietnam said it has been working together with several large commercial banks to set up a VNĐ120 trillion fund for social housing projects, which will likely enjoy a 1.5-2.0 per cent lower-than-market interest rates.
Source: VNS