Hanoi win V.League 1 for record sixth time
The side from the capital beat Hong Linh Ha Tinh 2-0 at Hang Day Stadium to win the league with a game in hand.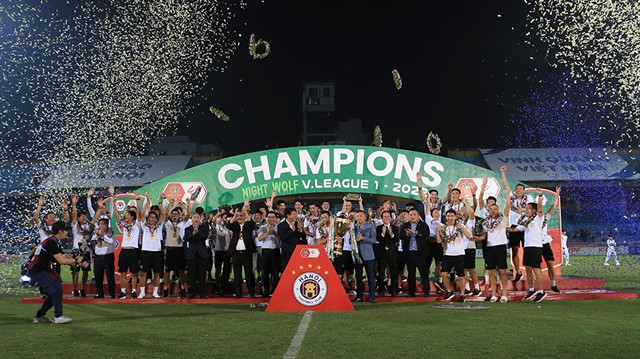 Hà Nội FC coaches and players celebrate their sixth V.League 1 trophy on Sunday at the Hàng Đẫy Stadium. Photos courtesy of VPF
The side from the capital beat Hồng Lĩnh Hà Tĩnh 2-0 at Hàng Đẫy Stadium to win the league with a game in hand.
Goncalves Silva Lucas Vinicius and Trần Văn Kiên scored a goal either side of half time for the champions.
The win took their tally to 50 points, two more than Hải Phòng, who have now played all of their games this season.
Topenland Bình Định are third with 44 points. They have one more match to play, though it would only strengthen their final tally.
This is a record sixth domestic title for Hà Nội.
"We have worked hard to win the national championship," said skipper Nguyễn Văn Quyết after the match. "In Hà Nội, every individual must work to build a strong team. We won thanks to people's solidarity which helped us overcome challenges and difficulties.
"Football includes not only players but officials, staff and supporters. I want to say 'thank you' to all. This victory is for all of us.
"The season, however, has not finished yet, so players will have to focus till the end," said Quyết, who has won five titles with Hà Nội.
Defender Đoàn Văn Hậu only returned to play a few weeks ago after a long injury layoff. He could not hide his happiness, running to the stands and family and friends.
"I have struggled with injuries this season. Luckily, I still have a chance to compete and contribute my humble labour to Hà Nội's championship title," said Hậu.
"This trophy will be a strong push for me to work harder and improve my ability," he said.
National team captain Đỗ Hùng Dũng said it was difficult to describe his feelings after his fourth title with the team.
"The key point might be our understanding of all rivals. We researched them carefully to earn positive results against strong teams," said Dũng.
"I am extremely happy now, but I have to keep my feet on the ground because we still have another target this season, the National Cup. The V.League 1 title will give us confidence to reach our goal."
Hà Nội will play their last match against Hoàng Anh Gia Lai, who beat Đông Á Thanh Hóa 3-2 away on Sunday, before meeting them again in the National Cup semi-final four days later.
As the national champions, Hà Nội will compete in the AFC Champions League in 2023.
Captain Quyết can't wait to play in the continental tournament.
"We won the national competition. Now, it is time to reach the Asian level, polishing Việt Nam's footballing image internationally," he said.
Head coach Chun Jae-ho said he was proud as he was the first foreign trainer of Hà Nội to win the V.League 1.
"I am glad that I have reached my target. I have met many difficulties in completing my task. I think that Hà Nội FC were right when they picked me as head coach," said Chun, who took charge of the team in February.
The South Korean said one of the secrets that helped him be successful in Hà Nội was his understanding of Việt Nam's culture and football. He found a suitable plan and playing style for Hà Nội's current players.
Chun said he wants former Hà Nội player Nguyễn Quang Hải to receive a winners' medal, despite playing a few games before moving to Pau FC in France's Ligue 2.
Coach Chun refused to comment on his future, despite his contract with Hà Nội coming to an end later this year.
"The Hà Nội FC President and I have saved a date to talk about this issue next week. I will talk about plans for the Asian competition after our contract is extended," he said.
The loss to Hà Nội pushes Hà Tĩnh into a difficult situation. The second-from-bottom club will have to vie for a berth in the V.League 1 next season against bottom-place Sài Gòn in the final match.
"Congratulations to Hà Nội with their sixth title. They deserve to win, and their win is persuasive," said coach assistant Nguyễn Công Mạnh of Hà Tĩnh.
"We know who we are, so we will play the best in the last match with Thanh Hóa and do not care about the result of Sài Gòn, who will face Bình Dương.
"We will have the strongest team in that match, and I believe that Hà Tĩnh will stay up 100 per cent."
Sài Gòn's coach Phùng Thanh Phương agreed that his team's chances of staying up are tiny, but his players will fight for their honour when they host Bình Dương this Saturday. VNS