Hanoi's declining air quality blamed on change of seasons

The capital of Hanoi was named as the most polluted city in the world on September 26, with the southern largest economic hub of Ho Chi Minh City not far behind.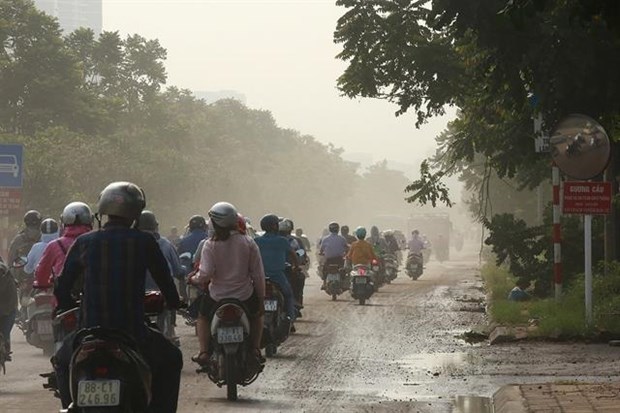 Haze engulfed Hanoi on September 26. Photo taken on Thang Long Avenue
Figures released by the air quality monitor app AirVisual put Hanoi at the top of the list followed by Jakarta in Indonesia and HCM City, respectively taking the second and third places.
On September 26, Hanoi's air quality index topped the 200 mark, which is considered hazardous.
Although the air conditions slightly improved, Hanoi's recorded air quality is still among the worst places in the world.
The monitor constantly updates and changes depending on the Air Quality Index. Change of seasons also reduces air quality.
According to the air monitoring system of Hanoi's Department of Natural Resources and Environment, the city's air quality has remained at "unhealthy" levels in recent days, mostly due to dust pollution.
Bad weather in the capital and fog made it difficult for the dust to be diluted or blown away.
At the same time, low wind speeds reduce air convection and trapping dust near the surface all contributed to the declining quality of the air in Hanoi.
The rapid urbanisation in Hanoi was the major cause besides the rising number of vehicles and traffic congestion, said Mai Trong Thai, head of Hanoi Environment Protection Department.
According to Thai, AirVisual uses data provided by US Embassy's monitoring station located near the Lang Ha-De La Thanh intersection where there are many passing vehicles and construction sites, which mean that the measurement is not indicative of the entire city.
Air quality at different areas around the city can be checked at www.moitruongthudo.vn by Hanoi Air Quality Monitoring Network, www.pamair.org by PAM Air Map of air quality and www.fairnet.vn FAirNet Map of air quality./.VNA

The air quality in large urban areas, especially Hanoi, has been rated poor or even dangerous recently.

Hanoi and HCM City have been named among the top three cities with the most serious air pollution in the world according to the air quality index (AQI) ranking by Air Visual.