Hanoi's plan for underground space needs reasonable investment costs
The Hanoi Urban Planning Institute (HUPI)'s plan on underground space development will be appraised by the Hanoi Authority for Urban Planning & Architecture and submitted to the municipal authorities.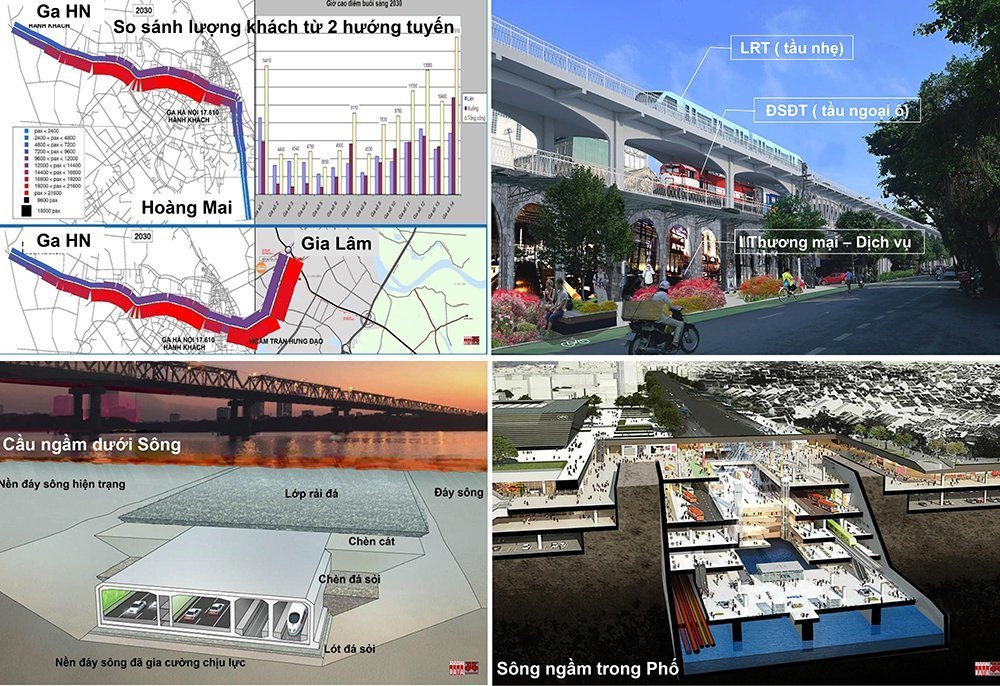 The underground designed by City Solution
In November 2021, Hanoi put into operation the Cat Linh – Ha Dong Urban Railway with total length of 13.5 kilometers. The total investment capital of the project was over $900 million, or $68.5 million per kilometer.
The Nhon - Hanoi Station railway project is under execution and the elevated railway section from Nhon to Cau Giay (on Kim Ma Road), 8.5 kilometers long, is expected to be put into operation soon. There are 318 spans on the section, with 3 bridges across Nhue River, and Belt Roads No2 and 3. The construction and installation package has value of 64.8 million Euro, or VND1.872 trillion.
The next section, 4 kilometers long, connecting to the Hanoi Station, has approved investment capital of VND9.669 trillion, or VND2.417 trillion, or $100 million per kilometer, which is 10 times more expensive than the elevated section.
The bidding package wrapped up at VND6.5 trillion, or VND3.17 trillion lower than the investment capital. However, the contractor has stopped construction, citing tardiness in handing over the construction site, claiming VND2.5 trillion for compensation. It is still unclear if the section is reasonable or expensive.
Hanoi plans to get foreign loans to build an underground urban railway, 8.3 kilometers long, from Hanoi Station to Hoang Mai and 0.5 kilometer surface section at the last station, capitalized at $1.72 billion, which means an investment rate of $200 million per kilometer, or 20 times more expensive than an elevated railway.
In 2018, the World Bank (WB) released an instruction on planning urban railway development, recommending that cities with limited budgets, experience and administrative capability consider carefully the development of underground railways.
Hanoi has just kicked off execution of the first four underground railways and is encountering problems. It appears to be risky to consider another railway with double length.
The route is unreasonable, from O Dong Mac to HoangMai. The suggested railway is expected to go under Kim Nguu River and through areas with no valuable landscapes that need preservation or special commercial attractiveness. Meanwhile, the anticipated number of passengers is lower than the required minimum level.
What benefits would the underground railway valued at over $1 billion bring to the public?
Underground space
In 2016, a Hanoi transport plan by 2030 with a vision towards 2050 was approved, which targeted building eight urban railway routes, with total length of 460 kilometers, of which 194 kilometers on five routes was scheduled to be completed by 2020.
By November 2021, Hanoi had just completed the construction of 22 kilometers of elevated railway, of which 13.5 kilometers had been put into operation, or just 7 percent.
With the current speed of execution, Hanoi would need 100 more years to fulfill the plan designed for 2020.
City Solution suggested an underground corridor with links among lines and areas, strengthening the connections between underground, surface and elevated railways from the existing routes.
Under the approved underground space, the development needs to be associated with five urban railway routes and 22 stations within four inner districts. The question is how Hanoi would develop its underground space if it doesn't know when it can finish the construction of 40 kilometers of underground and 150 kilometers of surface routes and elevated routes as planned.
Investment capital
High-cost underground works should be located within the old quarter, 10 square kilometers, covering the districts of Hoan Kiem, Ba Dinh and a part of Hai Ba Trung and Dong Da.
The documents from the Japan Tunneling Association and World Bank show that investors can reduce the investment rate by enhancing connections among underground works, using them for multi-purposes and bringing multi-benefits to attract investors.
Depending on conditions, Hanoi can choose a suitable excavation method to save money. For example, an open excavation method would be safer, less costly and create more useful spaces than the TBM (Tunnel Boring Machine) method.
If the former method is chosen, domestic businesses would have opportunities to participate in the projects. If the latter is chosen, the cost will be extremely high as all the equipment and labor force needs to be imported.
In 2021-2025, Hanoi plans to put the 8.5 kilometers of Nhon – Cau Giay elevated railway into operation first, followed by the four kilometers of underground railway connected to Hanoi Station.
The city intends to take over the 35 kilometers of old railway and four deserted stations and turn them into urban railways, and will seek solutions for the 25 kilometers of urban railway from Nam Thang Long that goes through the city's center. This will be a very difficult task if done separately.
City Solution has suggested an integrated HanoiLink that can dispel the problems. The estimated investment would be VND40 trillion, or $1.72 billion.
HanoiLink can bring three benefits. First, the total efficiency of passenger service per kilometer may increase by 2-300 times; second, Hanoi can arrange capital by selling 40,000-50,000 parking lots in the inner city; and third, Hanoi can use internal resources and not rely on loans. 
Tran Huy Anh (Hanoi Architect Association)

Vietnam's railway system, after more than 100 years of operation, is outdated.

Vietnam's railways have become out of date after 100 years of use. Developing high-speed railways is a solution that has been discussed for years but no decision has ever been made.