Hazardous air pollution engulfs Hanoi

The capital city choked on unprecedentedly poisonous air throughout Tuesday with the air quality index (AQI) monitored at most sensor stations reaching hazardous levels of above 300 from early in the morning.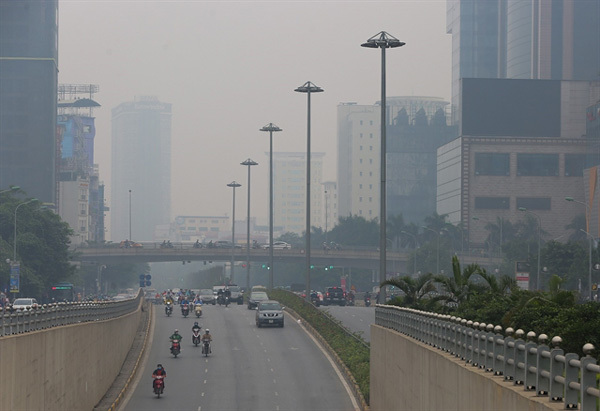 Thick haze blankets Hanoi's Tran Duy Hung District on Tuesday. 
The AQI recorded at Long Bien District's Nguyen Van Cu Station, for example, hit 344 at 5am then dropped to 270 – very unhealthy – at 8am.
At other stations on Thanh Xuan District's Nguyen Che Nghia Street and Cau Giay District's Pham Tuan Tai Street, AQI was reported at nearly hazardous levels, with 299 and 295, respectively.
In the afternoon, air quality slightly improved but remained at an unhealthy level (from 151 to 200) with visible dense haze engulfing the entire city.
Independent air quality trackers, PAMAir and AirVisual, reported similar results. At 4pm, AirVisual ranked Hanoi third worldwide for the highest AQI, following Pakistan's Lahore and India's Delhi.
Northern provinces including Phu Tho, Tuyen Quang and Thai Nguyen suffered the same ordeal.
According to Hoang Duong Tung, head of the Vietnam Clean Air Partnership, this was the worst air quality to hit Hanoi so far.
"The pollution is alarming. Hanoi authorities should immediately warn citizens to protect themselves," he said.
The city's eight millions residents, regardless of their conditions, are susceptible to respiratory diseases caused by air pollution.
The Vietnam Environment Administration blamed temperature inversion as the main cause of the severe pollution.
As Hanoi move into the dry season, the gap between daytime and nighttime temperatures increases, leading to a big difference in surface temperatures and higher altitudes, triggering inversion.
Air pollutants, including fine particulate matter PM2.5, were trapped near ground level, worsening the air quality in Hanoi and other northern provinces.
In the days ahead, air quality is forecast to remain at unhealthy to very unhealthy levels, especially at night and in the early morning. Citizens are recommended not to open windows or exercise outdoors at these times of day, and wear face masks when going out.
Tung said Hanoi's air quality had declined drastically recently but authorities seemed reluctant to take action to improve the situation. Temperature inversion has been long cited as the main cause of pollution in Hanoi, but Tung said he found the explanation hard to credit.
"There might be a bigger source of pollution in Hanoi and neighbouring localities," he said.
Hanoi enjoyed a precious few good days in late October before suffering the extreme pollution. Rain forecast on Wednesday and Thursday under the impacts of the northeast monsoon is expected to partially wash away harmful pollutants.

Last September recorded the lowest rainfall in the last six years, triggering air pollution and increasing the concentration of PM2.5, the Ministry of Natural Resources and Environment announced on Monday.

The capital of Hanoi was named as the most polluted city in the world on September 26, with the southern largest economic hub of Ho Chi Minh City not far behind.  
VNS