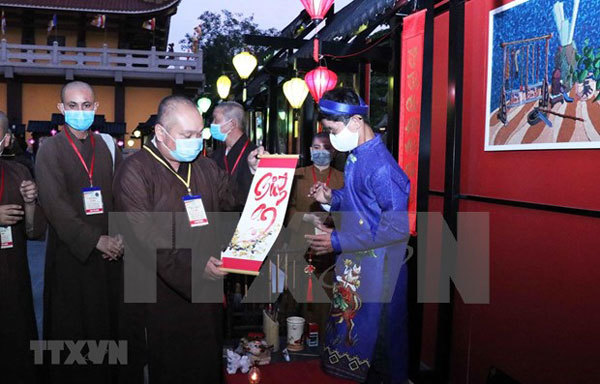 A calligraphy festival is underway at Vietnam Quoc Tu (Vietnam National Pagoda) in District 10, Ho Chi Minh City to welcome the Year of the Buffalo in the lunar calendar. Photo: VNA
The festival "Pho Ong Do" (the Street of Calligraphers), themed "A Spring of Peace", was launched by the Vietnam Buddhist Sangha (VBS) in HCM City on February 7.
Addressing the opening ceremony, Venerable Thich Thien Quy, deputy head and secretary of the municipal VBS's Executive Council, said over the past year, Buddhist monks, nuns and followers have together with people nationwide joined COVID-19 response and provided aid to people affected by flood and natural disasters.

Such efforts demonstrate the VBS's commitment to share and shoulder the nation's burden and challenges, he said, adding that in the time of COVID-19, the successful organisation of various Buddhist cultural events have widely spread noble Buddhist human values among the society.

The Venerable further said that the festival recreates and promotes the beauty of the traditional culture in today's life and at the same time, reflects the VBS's hope for unity among religions and ethnic communities and a life of peace and success in the New Year.
The event will run through February 26.
All visitors are required to comply with preventive rules against the COVID-19, including wearing facemask and using hand sanitiser.  VNA

Ho Chi Minh City launched its annual calligraphy street on January 28, with plenty of families and young people participating in the event ahead of the Lunar New Year festival, known locally as Tet.