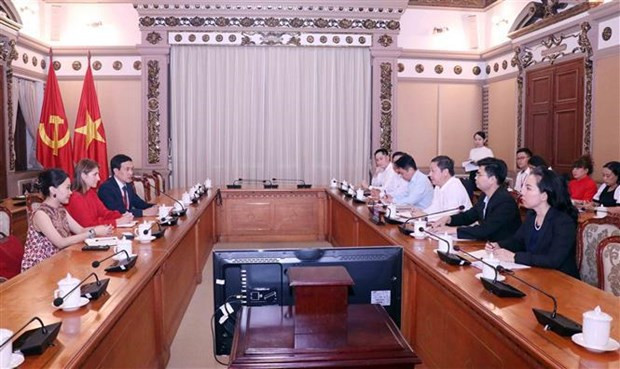 At the reception (Photo: VNA)
During a local reception on September 7 for CNN's Business Development Director for the Southeast Asia Erin Williams, Duc spoke highly of bilateral cooperation in popularising the city's tourism through various media platforms of CNN.
He said there remains more areas in which they could work together to create valuable media products that bring mutual benefits, suggesting that they work on communication campaigns to attract foreign investment, especially in the priority areas while introducing quality products and farm produce to international customers.
Hailing the city's economic prospects, Williams said a significant portion of customers in CNN's ecosystem comprises businesses and investors, and CNN is always attentive to the preferences and investment wishes of its customers.
CNN has extensive experience in working with localities and countries worldwide in this field and is ready to facilitate connections between the city and potential international investors, she said.
Expressing willingness to foster cooperation in areas of interest with the city, she said CNN is ready to partner with Ho Chi Minh City to launch tourism promotion campaigns targeting high-end tourists with longer stays and higher spending, as well as launch communication plans to popularise strengths in culture and people of Ho Chi Minh City and Vietnam, to audiences in other countries through CNN's media channels./.VNA