As shippers are familiar with the road network and can deliver large numbers of orders, the HCM City Department of Industry and Trade has proposed that local authorities permit them to operate during the period of strict social distancing, under certain conditions.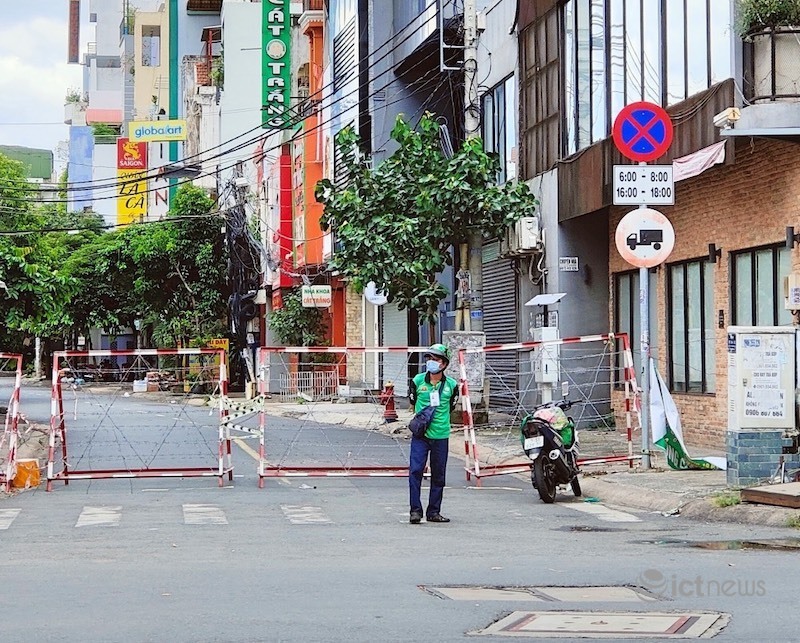 A shipper stands in front of a barrier during a strict social distancing period in HCM City. Photo: Hai Dang
According to the proposal, only shippers who have been vaccinated with at least one dose of Covid-19 vaccine from August 13 or earlier can participate.
The firms providing shipping applications will be responsible for making a list of qualified delivery staff and sending it to the Department of Industry and Trade.
Shippers will be quickly tested for Covid-19 every three days to ensure safety at facilities licensed by the Department of Health. The shipping service providers will pay the test fee.
The Department of Industry and Trade also proposed continuing vaccination for shippers on the list issued on July 29.
It is estimated that 17,449 shippers have received the first dose of vaccine, as of 0:00 on August 28. The Department of Industry and Trade forecasts that about 25,000 shippers will be mobilized.
According to this agency, each shipper can deliver 20-25 orders per day. If 25,000 shippers are mobilized, they will be able to serve the needs of about 500,000-650,000 households. The agency also proposed that shippers be allowed to operate between districts.
Hai Dang

Images of soldiers helping local citizens in their daily life have become familiar as HCM City tightens restrictions on movement amid an increasing surge of coronavirus cases.