HCM City doctor makes high-protein milk for poor patients
Dr Ta Thi Tuyet Mai adds nutrients to milk to provide high-protein food to patients in the intensive care unit. Her innovation fetched her KOVA Prize.
VietNamNet Bridge – Dr Ta Thi Tuyet Mai, head of the nutrition department at HCM City's Gia Dinh People's Hospital, adds nutrients to milk to provide high-protein food to patients in the intensive care unit (ICU). Her innovation fetched her KOVA Prize — in the Creative Ideas in Applied Science category — instituted by former vice president Nguyen Thi Binh and Assoc Prof Dr Nguyen Thi Hoe, chairwoman of KOVA Paint Group. The prize is given annually to individuals and groups making excellent contributions to science, education, charity and other fields. Gia Loc spoke to Mai about how she researched and made the milk.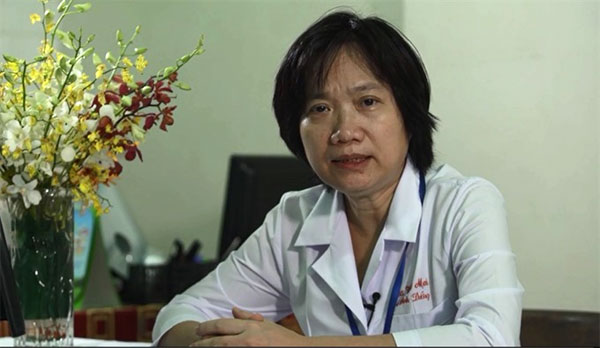 Dr Ta Thi Tuyet Mai, head of the nutrition department at HCM City's Gia Dinh People's Hospital, adds nutrients to milk to provide high-protein milk to patients in the intensive care unit.
What is the difference between the milk you make and those sold in the market?
The milk [I make] has higher protein values to provide enough to patients with serious ailments in the ICU at the hospital. It helps reduce low-density lipoprotein cholesterol in the blood, which is used to predict the risk of heart diseases. Moreover, it helps prevent inflammation and infection.
In the case of milks sold in market, doctors at the ICU have to provide 2,500 to 3,500 millilitres to a patient every day. In the case of the milk I make just 1,500ml is enough.
This helps reduce pressure on the stomach's lumen. Moreover, this volume is very suitable for Vietnamese patients because they are very short in stature with an average height of 1.6 metres. Patients' feeding needs are based on their height.
The milk also is good for patients and seniors with inappetence.
Why did you make this high-protein milk in the first place?
There are lots of research showing that feeding patients foods with high biological value helps reduce their hospital stay and the rate of complications and mortality.
At the Gia Dinh Hospital, where she works, 17 per cent of patients are fed through tubes. At other hospitals such as Oncology, Cho Ray and 115, the rate is less than 10 per cent.
The number of hospitals in the country with nutrition wards that can make food with high nutrition to feed patients through tubes is not high.
Many patients at the hospital's ICU face a high risk of infection and malnutrition due to not eating, leading to fatalities. I saw the relatives of many ICU patients not having enough money to buy milk because the average price is nearly VND250,000 (US$11), but milk is suitable only for patients without serious ailments.
There are high-protein milk products for cancer patients in the market such as Prosure, but their prices are too high. Poor patients cannot afford it.
The relatives themselves cook and grind rice gruel to feed the patients through tubes. It is dangerous because rice gruel can be contaminated with harmful bacteria while being made. Moreover, the insufficient nutrition in rice gruel cannot help improve the health of the patients.
I began to research into milk with high protein that is cheap for these poor patients. Moreover, the milk helps people with lactose intolerance, [a condition that] causes diarrhoea.
What ingredients do you use to make the milk?
I buy full cream milk powder and mix with soy milk, probiotics, proteins and other nutrients that are good for patients' health.
Can you describe your research?
Firstly, I came up with a formula and analysed the ingredients in milk to evaluate their biological value. For example, I try to calculate how much amino acid and minerals there are in milk to provide enough nutrition for patients with serious disease.
After creating the formula, I made the product and tested it on mice. When the experiment was successful, I tested it on humans. Before experimenting on humans, my colleagues and I tested them for lactose intolerance.
During the experiment, many patients recovered quickly after being fed this milk through a tube before the targeted 14 days.
What advantages did you have and what difficulties did you face in your research?
Financial assistance from the city Department of Science and Technology, the hospital's board of directors and the Department of Intensive Care and Anti-poison was an advantage.
But the fund was only enough for the research, whereas I wanted to produce the milk commercially.
What are your plans for the future?
Soon I will use the KOVA Prize money to produce the milk on a large scale outside the hospital. Now it is produced in the hospital.
After three years, I will share the product's formula with other hospitals' nutritionists to provide it to more ICU patients.
Currently we also are researching an IT solution for nutrition management to help doctors in ICUs evaluate and provide nutrition to their patients. They are not trained in this in medical university and the solution is important for them.
Moreover, my colleague and I at the Nutrition Ward will develop visual methods to use for providing consulting on nutrition for patients especially those with diabetes or kidney failure.
You trained in paediatrics, but now work in field of nutrition. Can you tell us about your career?
Between 1990 and 1996 I worked at the Dong Nai Paediatrics Hospital after graduating. During this time, my colleagues and I co-operated with members of the Wellcom Trust Organisation to do research on dengue fever and malaria. Five researches relating to these issues were published in international newspapers.
I moved to the HCM City Nutrition Centre to work between 1996 and 2002. And then I was sent to Japan to study for a master's degree in nutrition. I studied about issues related to community nutrition and food science.
I researched nutrition for primary school girl students in Viet Nam, eating habits affecting their nutrition and food to prevent their anaemia for my master's.
Moreover, after getting the master's, I continued to do research on zinc deficiency in pregnant women and diabetes.
Source: VNS