Some districts have been able to hire only one English teacher, but demand was for more than 30.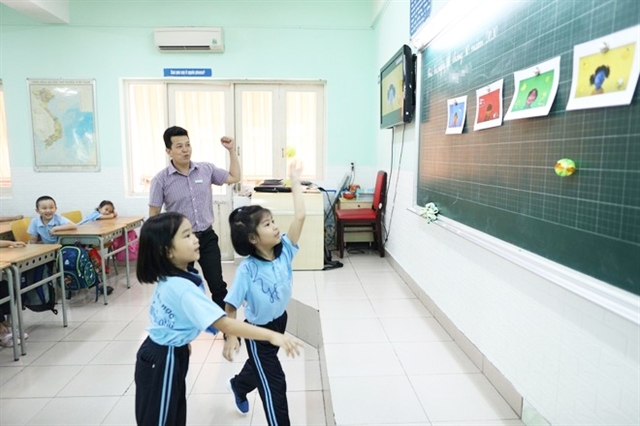 Tran Trong Khiem, deputy head of the Education and Training Department in Tan Phu District, said that as the city was currently organising an English programme for all students, many primary schools have had a difficult time recruiting a sufficient number of English teachers.
During the 2020-2021 academic year, the district had to hire 34 English teachers, but only received seven applications, and six of them were hired.
Similarly, Go Vap District People's Committee needed 30 teachers in English teachers for primary schools.
Nguyen Thanh Thuy, head of Go Vap District Department of Education and Training, said the district was able to recruit only one teacher.
Tran Van Toan, head of the Cu Chi District Department of Education and Training, said that English teacher recruitment in urban districts faces difficulties and is even more challenging for suburban districts such as Cu Chi, Binh Cháanh and Goi Vap districts.
Not many teachers want to work in suburban districts, he said.
"Although Củ Chi District does not require much, the number of primary English teachers applying for the position has not met demand," Toan said.
Tran Trong Khiem said that previous generations of English teachers need to graduate with an English major and have certificates of pedagogical skills.
However, the new recruitment scheme asks candidates to have a degree from universities of education, and this has resulted in a shortage of English teachers in primary schools in recent years.
In fact, there are many graduates with English proficiency since most universities have specialised English training courses, but there are not many graduates from pedagogical universities.
In addition, because of the low pay, English teachers' turnover rate is high, especially at public schools. Many teachers have decided to leave and work at private institutions where they can earn a higher salary.
To maintain the minimum number of English teachers, most schools have signed contracts with teachers from language centres.
However, schools can only sign contracts with language centres approved by the city's Department of Education and Training, based on quality evaluation criteria.
VNS

An elderly teacher is organising free classes for disadvantaged people in Binh Duong Province.