HCM City reduces illegal littering after two-year effort
Nearly VND20 billion (US$863,000) in fines has been collected from 10,848 cases involving illegal discharge of waste, following a two-year effort in HCM City to encourage people not to throw waste into waterways and public spaces.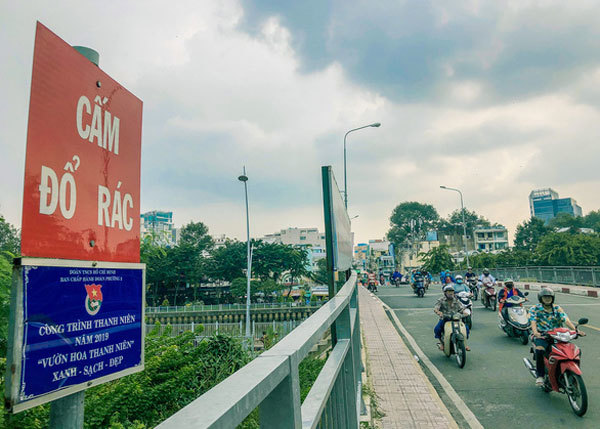 A green space near Bui Huu Nghia Bridge in HCM City's Binh Thanh District was once a hotspot for littering. — Photo tuoitre.vn
Local authorities and agencies have implemented several solutions and effective models, which contributed to environmental protection and reduced flooding partly caused by rubbish blocking drainage systems.
In the last two years, authorities organised more than 7,000 dialogues with residents to encourage them to participate in activities protecting the environment.
About two million households signed commitments to maintain environmental sanitation and not throw waste into rivers, canals and roads.
Over the last two years, people's committees in all 24 districts handled more than 20,000 submitted opinions and public feedback on environmental issues and violations via an online management software application.
Since the beginning of the year, the city has handled nearly 9,000 comments from residents.
Local authorities have continued to mobilise capital to install more surveillance cameras to detect littering violations in public places.
More attention has also been paid to infrastructure investment in waste treatment facilities with advanced technology.
The city collects and treats about 9,700 tonnes of waste per day.
To reduce the landfill rate to 50 per cent by 2020 and 20 per cent by 2025, the city's Department of Natural Resources and Environment, in coordination with relevant departments, has converted waste treatment technology at treatment facilities, and launched bidding to select investors for planned waste treatment projects.
Construction of three solid waste treatment plants began last year, with a total capacity of 4,500 tonnes of waste per day.
They include two solid waste treatment plants run by Vietstar JSC and Tam Sinh Nghia Investment Development JSC in Cu Chi District, and an industrial and hazardous waste treatment plant run by Moc An Chau Company in Binh Chanh District.
Tasco Joint Stock Company will soon kick off one more solid waste treatment plant in the city. 
Pollution hotspots
More green spaces and playgrounds for children have replaced pollution hotspots in the city.
An area near Bui Huu Nghia Bridge in Binh Thanh District was considered a littering hotspot for years, causing Xuyen Tam Canal to have a foul smell from waste discharged by households living nearby. 
However, the area became a green space one year ago. Local authorities and residents planted trees and flowers, and cleaned up the canal.
Also, a year ago, a 150sq.m area in District 8 was full of discharged waste but now is a public place for residents to exercise and a playground for children.
Nguyen Thi Nga, a resident in District 8, said many households threw their waste in this area because it was empty land and garbage collection vehicles did not come to pick up trash.
For a long time, the stink of garbage surrounded the site.
"Since the area was cleaned up, we have been gathering here to organise entertainment activities during holidays like the Mid-Autumn Festival and Vietnamese Women's Day," she said.
However, illegal garbage dumping sites still exist on many roads in the city. For example, some people still throw rubbish randomly in an area under the Sai Gon Bridge in District 2's Thao Dien Ward.
Nguyen Viet Sy, deputy chairman of Thao Dien Ward People's Committee, said the local authority had to set up fences around the site and send guards to monitor illegal dumping and detect violations.
"Communication about environmental protection and strict punishment for violations have resolved the hotspots for littering," he said.
Locals have planted flowers and trees at illegal dump sites after clean-ups, deputy chairman of the Ward 2 People's Committee in Binh Thanh District, Luu Van Tam, said.
"This has helped to raise public awareness about their role in preventing illegal dumping," he said.
The People's Committee of Ward 14 in Go Vap District has also successfully prevented illegal littering on Tham Luong - Ben Cat - Rach Nuoc Len Canal, and planted trees along the canal banks.
Nguyen The Dung, chairman of the People's Committee of Ward 14, said a 4km section of the canal through the ward was considered a "black spot" of garbage, causing pollution and blocking the flow of water.
Illegal littering had fallen sharply thanks to better enforcement and a rapid response team that was set up to conduct communication campaigns, he said.  VNS

Nearly 200 cameras were installed in Truong Tho Ward, HCM City's Thu Duc District as it was considered a hotspot for littering, in the last few years.

Like other major urban areas in Vietnam, Ho Chi Minh City (HCMC) is now facing serious effects caused by air pollution, including respiratory health problems, climate change, and unbalanced ecosystems.