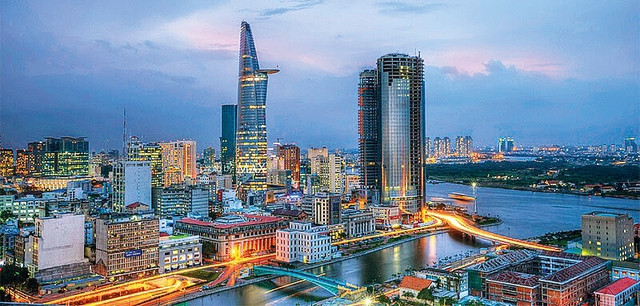 An image of HCM City. The city is chosen by both domestic and foreign tourists as a top destination. — Photo from baochinhphu.vn
In a report, Lâm Vũ, country manager for Việt Nam and Indochina of Agoda, said HCM City is the place where many domestic and inbound tourist had chosen to visit after the pandemic.
Speaking with Việt Nam News, Lâm said that HCM City is the biggest entry point connecting Việt Nam and the world. The city has a big airport with many direct flights so visitors choose the city as a destination before going to other provinces and cities.
He highlighted HCM City, Hà Nội and Đà Nẵng as the three most popular destinations domestically for the month-ending long weekend, while Bangkok, Tokyo and Kuala Lumpur have emerged as the top international getaways for the long break.
The other domestic destinations during this period include Vũng Tàu, Đà Lạt, Nha Trang and Phan Thiết.
In another development, Agoda shared top three observations about the Vietnamese travel industry and the trends that players in the sector can expect for the rest of 2023 and beyond.
"Sustainability is not a fad, it's here to stay," Lâm said.
"The travel industry is taking steps towards becoming more eco-friendly, and travellers are increasingly aware of this. Việt Nam is making strides towards sustainability, but there is still work to be done. Increasing awareness is crucial, and travellers and hoteliers alike are demanding more eco-friendly options."
Secondly, Agoda highlights Vietnamese culture as one that emphasises close family bonds. Family travel has been one of the centerpieces of the online travel business in the past, and will continue to take centre stage moving forward.
"Vietnamese families are eager to travel, and the trend is not limited to immediate family members. According to Agoda's Family Travel Survey, four out of five travellers are looking to plan family holidays in the next 12 months, with immediate or extended family members."
In another trend, technology is a key driver of tourism behaviour.
"Vietnamese travellers are turning to technology to get the best deals and to plan their trips. Using fintech solutions and AI, travellers can find the best flights, accommodations, and activities, all in one place. Additionally, the extended trip trend has gained popularity, where travellers book flights and accommodations for extended periods of time to save money," Lâm said. — VNS