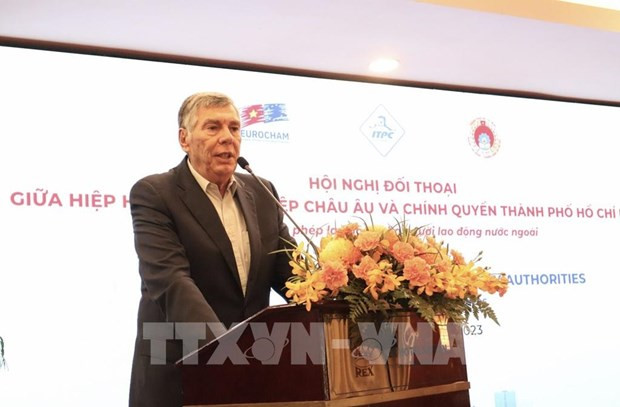 Alain Cany, Chairman of the European Chamber of Commerce in Vietnam (EuroCham) speaks at the event. (Photo: VNA)
At a dialogue held in the city on March 7 between the European Chamber of Commerce in Vietnam (EuroCham) and local authorities, foreign businesses said it took them a long time to obtain work permits for their foreign experts, reported The Saigon Times.
They also reported facing hindrances in explaining the demand for using foreign labour, including preparing documents indicating recruitment demands, training plan, recruitment notice and other foreign labour issues, from the certification of work experience and qualifications to visas and temporary residence cards.
According to Nguyen Van Lam, Vice Director of the municipal Department of Labour, Invalids and Social Affairs, the department has recently reduced the administrative procedure for issuance of work permits from 10 to 7 working days and the renewal of work permits from three to one working day.
In the coming time, the department will review and propose shortening the time limit for handling the extension of work permits and certification on the exemption from work permits from five to three working days.
The city launched a public service portal on dichvucong.hochiminhcity.gov.vn in October 2022. Thus enterprises can access the portal for information on the required documents and to file them./. VNA