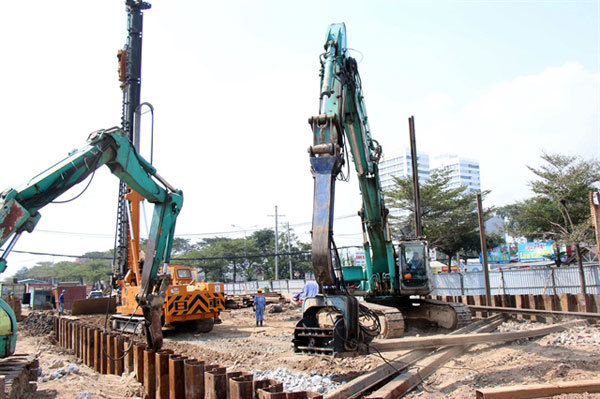 Construction of a double tunnel beneath the Nguyen Van Linh - Nguyen Huu Tho Intersection in District 7 was one of HCM City's key traffic projects licensed to continue working even amid the COVID-19 restrictions in the last few months. — VNA/VNS Photo Tien Luc
Among them are an overpass in front of the new Mien Dong (Eastern) Bus Station on the Hanoi Highway in Thu Duc City, infrastructure at the Nuoc Den canal area in Binh Tan District, the new Hang Ngoai Bridge in Go Vap District, the first branch of the new Bung Bridge between Tan Phu and Binh Tan districts, and upgrade of Dang Thuc Vinh Street in Hoc Mon District.
The resumption of these projects is based on safe adaptation to the pandemic, according to the city's Department of Transport.
So far the city Management Board for Traffic Works Construction and Investment has resumed work on 45 construction packages at 27 projects with more than 1,000 workers and engineers.
After the fourth COVID-19 outbreak hit the city at the end of April, HCM City on July 9 and then 18 southern provinces went into lockdown under Government's Directive 16.
All non-urgent construction works had been required to halt, including traffic infrastructure projects, and only key and urgent projects were permitted to continue.
Most of the suppliers of machinery, equipment and construction materials had to stop their operations due to the lockdown, making things more difficult for these projects.
The number of workers at the construction sites of many traffic works decreased steadily, because many workers returned to their hometowns to avoid the pandemic or living in locked-down areas.
Many F0 and F1 cases appeared at construction sites, forcing the need to test all workers and organise quarantine, interrupting the work at many projects. 
Resumption
With the efforts to gradually reopen economic activities in the city, the municipal Steering Committee for COVID-19 Prevention and Control has issued a set of criteria for construction works that can resume if they meet safety requirements such as fully vaccinated workers and compliance with the health ministry's 5K preventive measures and pandemic prevention and control regulations.
Contractors and investors must take responsibility for carrying out regular inspections to ensure pandemic prevention requirements are met at their site.
The projects allowed to operate had to implement the 'three on-site' model (work, eat, and rest at workplaces), or the 'one route, two destinations' model (workers could only travel between their accommodation and the workplace on a fixed route and with no stops on the way). However, applying the models during the prolonged pandemic has caused financial difficulties to contractors and investors.
The metro line No 1 and Thu Thiem 2 Bridge are also among several projects on which work has been allowed to restart.
Only the Thu Thiem 2 Bridge project's progress was basically ensured, and most of the rest have been going on at modest pace.
The metro line No 1 project will increase the number of workers to speed up progress on its bid packages. The new Thu Thiem 2 Bridge is expected to be completed on April 30 next year. 
Overcoming challenges
The city's high vaccination rate helps mobilise enough workers for construction to speed up work on projects.
After lifting COVID-19 restrictions from October 1, the projects do not need to observe the 'three on-site' model if they use COVID-19 green cards (which allow partly and fully vaccinated people and those who are immune after recovering from the disease to take part in public activities).
Besides construction works, the city has also allowed the resumption of a number of socio-economic activities.
The city has given funding priority for major traffic projects. Some VND33 trillion (US$1.45 billion), or 23 per cent of the city's public investment in 2021-25, is meant for traffic projects.
However, this amount is only enough for projects which have been left unfinished in 2016-20 and not enough for new projects.
Amid expectations the pandemic will last for long, the city was forced to assign the highest priority in allotting funds to pandemic prevention and control.
Due to limited availability of funds, the city had to cut VND16 trillion ($702.8 million) from projects that had been approved but were not started to prioritise urgent projects.
The city's transport sector has drawn up a list of nine project groups by 2025 and mechanisms and policies to further mobilise investment in traffic infrastructure. The total financial requirement for the nine is estimated at more than VND675 trillion ($29.6 billion).
The city is prioritising investment in ring roads No 2 and 3, the An Phu Intersection and the HCM City - Moc Bai Expressway.
Contractors are facing difficulties due to labour shortages at many projects. Therefore, the transport sector focuses on finding workers for the projects.
The city's Department of Transport is working with relevant agencies in other provinces and cities to bring migrant workers back.
The department has also worked with project investors to resolve difficulties related to transportation of construction materials and site acquisition.
Source: Vietnam News

Work on 40 packages of 22 key traffic infrastructure projects in HCMC would be resumed between September 28 and October 15 after a months-long suspension caused by the Covid-19 pandemic.