HCM City: The Factory hosts two art exhibitions

Two exhibitions by a group of young artists are on display at HCM City's The Factory Contemporary Arts Centre.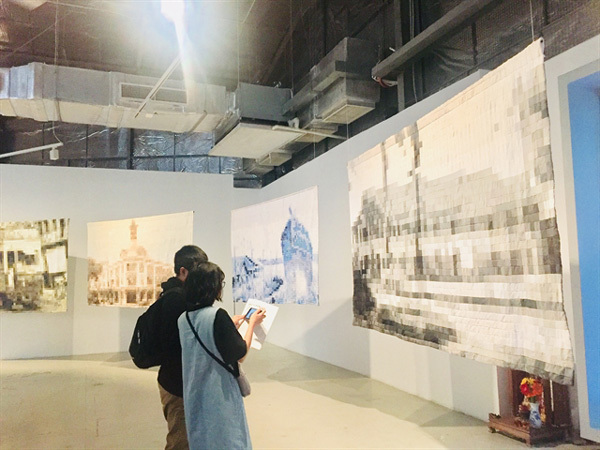 Visitors at the exhibition Nhặt Lá Rừng Xưa ( Leaf Picking In the Ancient Forest ), by female artist Vo Tran Chau. The artist's works use fabric and thread.
Nhặt Lá Rừng Xưa (Leaf Picking In the Ancient Forest), female artist Vo Tran Chau displays a series of works using fabrics and threads. Her messages about history and legacies evoke questions about time, life and people.
Chau cuts secondhand clothes into square-sized pieces and organises the materials into a system of colour-coding. She also uses photography and textiles to depict her views.
Born to a traditional family of embroidery, Chau is aware of the unique beauty of thread and fabrics. The 34-year-old portrays how strongly history reflects on the people and societies, including Vietnamese history of different periods, which feature in her pieces.
Among her previous exhibitions are Suzhou Documents in China in 2016, and Fabric of Our Life in Hong Kong, and Where The Sea Remembers, both in the US last year.
"I love Chau's art. I see a taste of Vietnamese in her works," said Nguyen Thao Nhi, 18, who visited Chau's showcase, Leaf Picking in the Ancient Forest, on Sunday.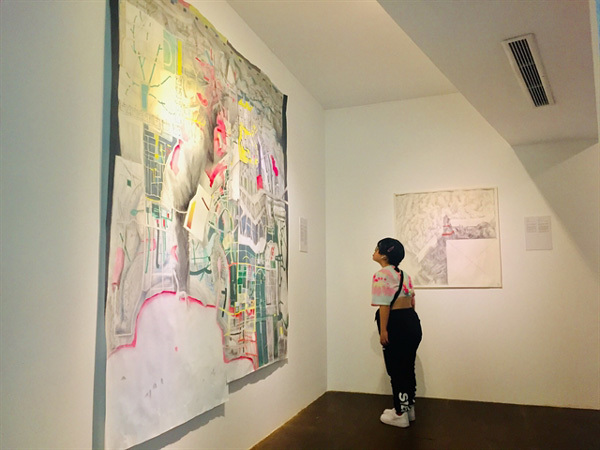 Paintings by young Vietnamese artists at the exhibition Spring Galleries 2020. VNS Photos Anh Thu
 
The other event, Spring Gallery 2020, features works in different media chosen from the latest work from Ha Ninh Pham, Ngoc Nau, Oanh Phi Phi, Tammy Nguyen, Phan Thao Nguyen and Tran Minh Duc.
With the theme Spring and Love, it brings the artists together to share cultural values through painting. Each work represents a segment of the artistic dynamism Vietnam.
Highlighted works are small-scale lacquer paintings by Oanh Phi Phi, who plays with pink, brown and yellow colours.
While Ninh's works come from his project called My Land, Tammy's works featuring ancient tales are part of the collection "The Gazing Pool of Who and I".
The works on display lead viewers to encounters between reality and the imagination, the daily and fanaticism, the past and future.
Both events, Leaf Picking in the Ancient Forest and Spring Galleries 2020, will run through March at 15 Nguyen U Di, Thao Dien Ward, District 2. Paintings at Spring Galleries 2020 are on sale. — VNS

Eight contemporary artists from Vietnam and foreign countries showcase their artworks at an exhibition that opened yesterday at the Vincom Centre for Contemporary Art (VCCA).

Two young artists Tammy Nguyen and Pham Ha Ninh, both of whom studied art in the US, will showcase their latest paintings at the exhibition Necessary Fictions at the Factory Contemporary Arts Centre.A1.