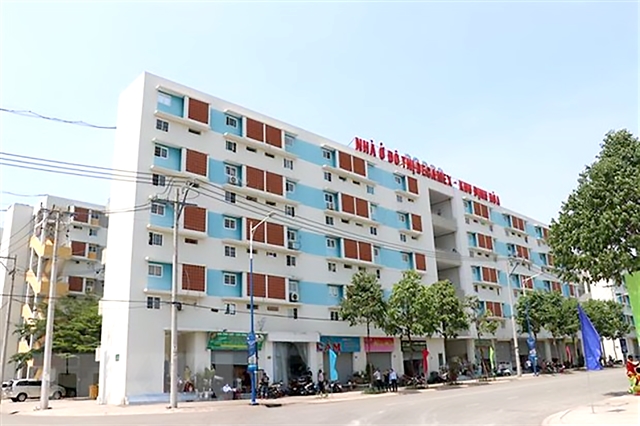 A social apartment building in the southern province of Bình Dương. — VNA/VNS Photo
Under a proposal to the People's Committee, the Department of Construction has also proposed increasing the budget allocated for social housing to VNĐ3.8 trillion ($158.12 million) from VNĐ1.2 trillion ($49.91 million).
The department has identified 26 potential areas for the development of social housing and workers' housing.
These areas include four inner-city districts (District 4, 8 and Bình Thạnh and Tân Bình districts) covering nearly 11 hectares; three other inner-city districts (District 7, 12 and Bình Tân District) spanning 15 hectares; there suburban districts (Bình Chánh, Nhà Bè and Củ Chi districts) totaling 188 hectares; and Thủ Đức City covering over 334 hectares.
The government has recently approved a new initiative that aims to build over one million homes for low-income individuals and industrial park workers by 2030.
The initiative approved by deputy Prime Minister Trần Hồng Hà will require a total investment of VNĐ849.5 trillion.
By 2030, the total number of completed dwellings in localities will reach about 1,062,200. Of these, about 428,000 will be completed by 2025 and 634,200 by 2030.
In addition to government efforts, the private sector is encouraged to participate in the development of affordable housing, experts said. Market mechanisms can help provide suitable housing conditions for everyone, they noted.
The Ministry of Construction has proposed improvements to the legal framework governing social housing for low-income individuals and workers in industrial zones.
A draft resolution of the National Assembly is being developed to pilot policies aimed at promoting social housing development.
The Law on Housing 2014 is also being revised to align with the revised Law on Land, Law on Bidding, tax laws, and guiding legal documents.
In addition, land allocation for social housing and worker housing projects is being addressed through amendments and additions to existing regulations.
People's committees at the provincial and district levels are expected to identify suitable land areas for social housing development, taking into account local planning, land use plans, and development programmes. — VNS