HCM City to ban sleeper buses entering downtown from mid-December
The HCM City Department of Transport has proposed to ban sleeper buses entering the city centre between 6am and 10pm from the middle of next month in an effort to crack down on picking up and dropping off passengers illegally.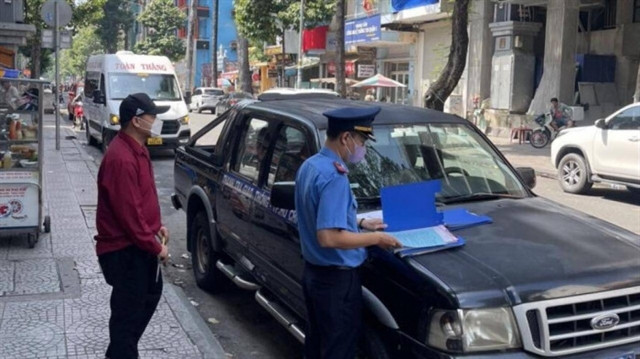 A traffic inspector discovers a passenger bus illegally parked on Nguyễn Thái Bình Street in HCM City's District 1 on November 7. — Photo www.baogiaothong.vn
The proposal has been submitted to the municipal People's Committee for approval and is expected to reduce traffic jams and ensure traffic safety and order during the year-end increase in transport demand, especially for the upcoming Tết (Lunar New Year) holiday.
Accordingly, sleeper buses will not be allowed to enter the off-limits area within National Highway 1A, Nguyễn Văn Linh, Võ Chí Công, Nguyễn Thị Định, Đồng Văn Cống, Mai Chí Thọ and Hà Nội Highway during the time limitation mentioned above.
This area has been off limits for cargo trucks since 2018.
However, sleeper buses will be permitted to travel on those roads without any time limitation on their way to the new Miền Đông (Eastern) Bus Station in Thủ Đức city and Miền Tây (Western) Bus Station in Bình Tân District on fixed routes regulated by the transport department.
The Department of Transport will consider adjusting the time limitation depending on traffic conditions.
The city now has 58 companies providing passenger transport services on inter-provincial fixed routes with 1,579 vehicles, while 1,351 firms provide 90,835 contract cars and tourist cars.
By October, there were more than 49,200 fixed-route passenger buses operating in the city, including about 1,100 sleeper buses (from 22 to 44 beds). In addition, around 1,610 sleeper buses travel from other provinces to the city bus stations.
The sleeper buses traveling to and from the city are only allowed to pick up and drop off passengers at five bus stations: An Sương Bus Station in Hóc Môn District, Ngã Tư Ga Bus Station in District 12, new Miền Đông Bus Station, old Miền Đông Bus Station in Bình Thạnh District and Miền Tây Bus Station.
However, many sleeper buses have been discovered picking up and dropping off passengers at illegal locations, according to the department.
The department's traffic inspectors have identified 76 locations across the city where passenger transport services often pick up or drop off passengers illegally.
Of the locations, 25 locations are in District 5, 22 locations in Thủ Đức city, six locations in District 12, five locations in District 1, four locations each in District 10 and the districts of Bình Tân and Tân Phú, two locations each in Bình Thạnh and Bình Chánh districts, and one location each in Hóc Môn and Tân Bình districts.
The department has asked localities in collaboration with its inspectors to monitor these locations and punish violations to ensure smoother and safer traffic. — VNS