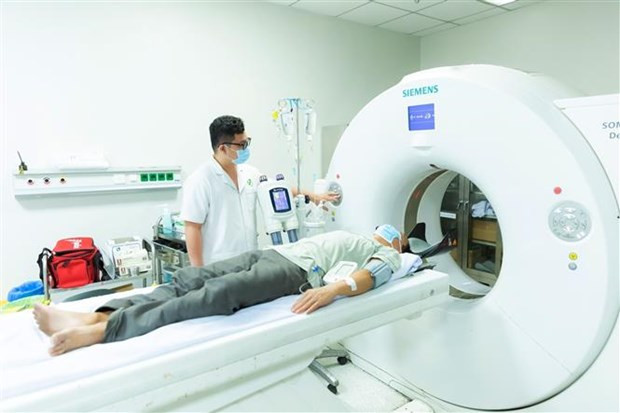 A patient undergoing imaging diagnosis at Military Hospital 175 in HCM City. — VNA/VNS Photo Đinh Hằng
CD Washington, a 45-year-old Canadian patient, has made a full recovery and is able to walk normally after undergoing three months of traditional medical treatment at Military Hospital 175 in HCM City.
He had visited many hospitals in Canada seeking treatment for the paralysis of both legs that resulted from a traffic accident eight years ago. Doctors recommended surgery but he did not agree. He researched non-surgical methods using traditional medicine and decided to come to Military Hospital 175 in Việt Nam for treatment, Vietnam News Agency reported.
The doctors decided to treat him using acupuncture, acupressure, electrical stimulation therapy, whole-body magnetic stimulation for nerve recovery and physical therapy.
After two months of treatment and dedicated rehabilitation efforts, the patient made his first steps with assistive devices and regained normal mobility after three months.
Earlier in May, the doctors at Mỹ Đức Hospital, HCM City, were overjoyed to hear that a baby was born safely and healthy in the United States.
Hiba is one of the babies born through the in vitro fertilisation (IVF) method performed by Associate Professor, Ph.D., doctor Vương Thị Ngọc Lan, a lecturer at the University of Medicine and Pharmacy in HCM City.
Before coming to Việt Nam, Hiba's parents had undergone six unsuccessful attempts at IVF over the past ten years. The infertile couple went to Việt Nam for help.
In June 2022, they were present in Việt Nam and achieved success after their second embryo transfer.
With its successes, HCM City is taking steps to assert its position and reputation in order to elevate Việt Nam's healthcare sector regionally and globally.
Dr. Hồ Mạnh Tường, secretary-general of the HCM City Reproductive Endocrinology and Infertility Association, said that in the past, Việt Nam was primarily known among foreigners and Vietnamese expatriates as a place for affordable medical techniques with effectiveness in traditional medicine, dentistry, and aesthetics. However, in recent years, the field of treating infertility and rare infertility cases has been emerging with notable achievements.
According to Dr. Tường, in the US, IVF services are quite expensive, with a cost of about US$20,000, while in Việt Nam, it's only about $3,500.
Even within the Southeast Asian region, the cost of IVF services in Việt Nam is approximately three times lower than in some other countries. The success rate for IVF in the country ranges from 40-45 per cent.
The combination of lower costs and highly skilled doctors is one of the reasons why an increasing number of foreigners and Vietnamese expatriates are seeking medical care in Việt Nam.
Some healthcare facilities in the city have seen a growing number of foreign patients seeking medical services, such as FV Hospital, which receives around 20,000 foreign patients per year, the University Medical Centre with 18,000 patients and Chợ Rẫy Hospital with 1,200 patients.
Medical tourism – a promising industry
According to statistics from the HCM City Department of Health, the city has 144 public and private hospitals, 318 medical stations, 196 private general health clinics, and nearly 6,000 private specialised clinics.
Statistics from the city Department of Tourism showed that the number of medical tourists coming to Việt Nam for treatment has been steadily increasing over the years, with an annual revenue of around $2 billion.
On average, there are approximately 300,000 foreigners coming to Việt Nam for medical treatment each year, with 40 per cent of them seeking treatment in HCM City.
The Department of Health acknowledges the commitment of FV Hospital, one of the first international standard hospitals in the city, in retaining Vietnamese patients for domestic treatment and actively attracting foreign patients for medical care.
Moreover, FV Hospital has repeatedly achieved international recognition for its healthcare quality through JCI accreditation. As a result, many international health insurance companies and international insurance assistance firms have accepted and signed medical examination and treatment contracts for their clients seeking healthcare at FV Hospital.
Currently, around 25 per cent of the total number of patients seeking medical examinations and treatments at FV Hospital are foreigners, including individuals from South Korea, Japan, France, the United States, Canada, Cambodia, and others.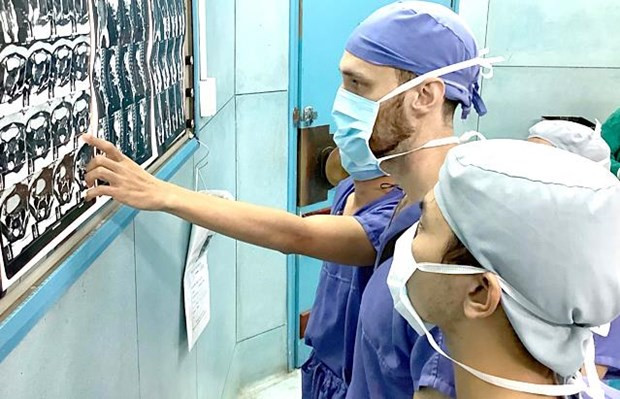 Jacob Lepard, an American doctor, and doctors from the Department of Neurosurgery, Children's Hospital 2, discuss a patient's diagnostic images. — Photo courtesy of Children's Hospital 2
One of the thriving sectors poised to attract medical tourism in HCM City is traditional medicine with two of the largest specialised units in the southern region, including the Institute of Ethnic Medicine and the Traditional Medicine Hospital.
According to Dr. Đỗ Tấn Khoa, director of the Traditional Medicine Hospital, this is a notable strength in combining tourism with healthcare.
"Việt Nam has a rich source of medicinal herbals. If utilised effectively, there are few places that can rival the development of healthcare through traditional medicine combined with tourism quite like HCM City," Dr. Khoa said.
A survey conducted by the city Department of Tourism indicates that post-COVID-19, tourists are increasingly interested in resort products and healthcare services.
The department's deputy director, Bùi Ngọc Hiếu, said this presents an excellent opportunity for the city to promote medical tourism services.
The department has collaborated with the Department of Health to connect with over 50 entities, including hospitals, healthcare facilities, spas, travel companies, and accommodation providers, to create unique tourism products meeting the needs of travellers. About 30 medical tourism products will be formed in 2023.
"At present, the city has health tourism products, but they are still in their beginning. In the long term, there is a need for infrastructure investment and training of specialised healthcare personnel who possess knowledge in both tourism and healthcare as well as foreign language skills," Hiếu said.
Building credibility abroad
The Chợ Rẫy Phnom Penh Hospital, a symbol of friendship between Việt Nam-Cambodia in Phnom Penh, Cambodia, has been a reliable hospital for the people of Cambodia to entrust their health and lives since its establishment.
Dr. Nguyễn Tri Thức, director of Chợ Rẫy Hospital in HCM City, said that on average, there are 400-500 doctors and specialists sent to Chợ Rẫy Phnom Penh Hospital each year to provide specialised support.
At the same time, many advanced techniques have been successfully introduced to Cambodia by the Vietnamese medical team, including complex orthopedic surgeries, pacemaker implantations, and artificial kidney placement.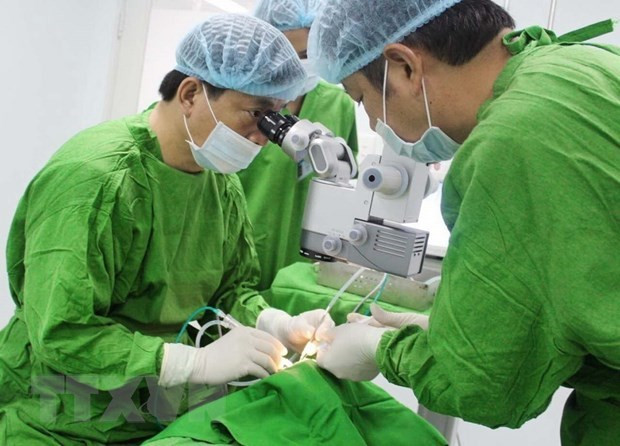 Vietnamese doctors performing an endoscopic surgery at Chợ Rẫy Phnom Penh Hospital in Phnom Penh, Cambodia. — VNA/VNS Photo
During a recent visit and working session at Chợ Rẫy Phnom Penh Hospital, Prime Minister Phạm Minh Chính expressed his appreciation for the efforts of Vietnamese doctors and physicians in their medical treatment, contributing to strengthening and tightening the traditional friendship between the two countries.
PM Chính affirmed that each well-cared-for and healthy patient would contribute to creating a bridge to reinforce and enhance the friendship and cooperation between Việt Nam and Cambodia. This has become a historical mission beyond their professional expertise.
As one of Việt Nam's first doctors to receive comprehensive training in robotic surgery techniques, doctor Nguyễn Phú Hữu, a deputy head of the Gastrointestinal Department at Bình Dân Hospital, was invited to the Philippines in 2019 to provide guidance on robot-assisted surgeries and performed some complex surgeries in March this year.
An increasing number of countries in the region have been sending their healthcare personnel to Vietnamese hospitals for practical experience and learning.
Bình Dân Hospital, University of Medicine and Pharmacy Hospital, Traditional Medicine Institute, Mỹ Đức Hospital and others in HCM City regularly receive foreign doctors who come to study, enhance their expertise and skills.
Application of advanced techniques
By May 2023, Bình Dân Hospital had successfully performed its 2,000th robot-assisted surgery after over six years of implementation.
Thousands of robot-assisted surgeries have also been successfully carried out at Chợ Rẫy Hospital.
In the field of obstetrics, HCM City has become famous for its numerous successes in IVF with many renowned maternity hospitals such as Hùng Vương, Từ Dũ, Tâm Anh and Mỹ Đức.
Dr. Tăng Chí Thượng, director of the city Department of Health, said that despite the high level of expertise and skills among Vietnamese doctors and medical professionals, the healthcare sector in the city is still lagging behind some other countries in the region.
The main reason is that the health sector has not received proper investment and lacks appropriate development mechanisms, which has prevented it from developing strongly and attracting a sufficient number of foreign patients as expected.
Thailand and Singapore are two countries with developed healthcare systems that attract many foreigners for medical treatments. Singapore excels in advanced medical techniques and modern equipment due to its foreign investment-friendly policies, while Thailand has been very successful in medical tourism. Thailand leverages its advantage in tourism to promote its healthcare services.
Meanwhile, Việt Nam and HCM City in particular, still face certain shortcomings such as: inconsistent infrastructure, limited foreign language proficiency, especially in public hospitals which do not adequately meet the needs of healthcare services for foreigners, according to Dr Thượng.
Research and development activities have not received enough attention.
Although healthcare professionals have comparable skills to many other countries, the heads of leading hospitals have not been fully committed to research and not proactively engaged in the ranking of top specialty hospitals in the region and the world.
Additionally, medical tourism has not been invested properly and is still in its nascent stage, Thượng said.
Based on these realities, the head of city's health sector has proposed solutions to elevate healthcare and make the city a prominent healthcare centre in ASEAN. These include establishing a top-notch healthcare training centre, developing modern infrastructure, creating high-tech medical zones in the hospital-university model, advancing specialised techniques, and building a network of specialised healthcare.
The city also aims to provide a comprehensive range of healthcare services, become a medical tourism destination, integrate modern and traditional medicine, and boost research and development in healthcare.
It's essential to implement policies for substantial healthcare investment, attract reputable international medical universities to collaborate with domestic institutions for international-standard medical training, and bring in high-quality healthcare professionals both locally and globally.
Encouraging innovation in the healthcare sector is pivotal for digital transformation, efficient management, and improved service quality. — VNS