HCM City to offer special tours during Tet

Bike tours in Can Gio District and food tours on cyclos will be among the many kinds of tours to be offered during the Tet (Lunar New Year) Holiday in HCM City.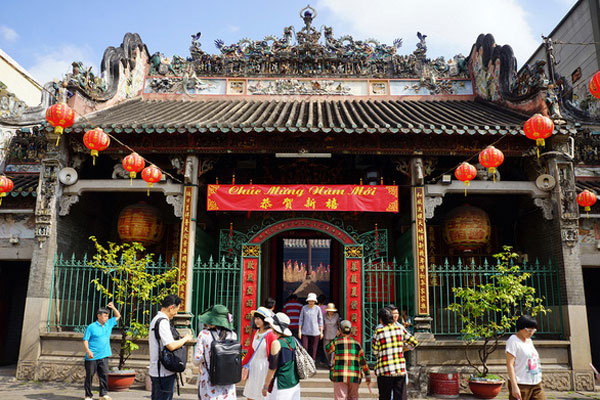 District 5 is a popular destination for tourists. Photo courtesy of tuoitre.com.vn
The tours are part of the city's tourism promotion programme in 2020, according to the city's Department of Tourism.
Phan Yen Ly from Saigontourist said that last year's special tour Tây ăn Tết ta (Foreigners Experiencing Lunar New Year Festival) attracted many international tourists.
The tour, which lasted for half a day, took tourists to the Tao Dan Spring Flower Festival and Cho Lon Market, worship activities at a temple, and a local's house for a Tet meal with the house owner.
Tinh hoa Tết Việt (The Essence of Vietnamese Tết) will be the theme of this year's tours, according to Tuổi Trẻ (Youth) newspaper.
Tourists will be able to explore the HCM City Museum, Independence Palace, Tan Dinh Church, and District 5, among other places, during the tours.
A representative of Kim Travel, Duong Hong Phuoc, said the Sai Gon River Tour is HCM City's new tourism feature.
The tour is part of the Sài Gòn rực rỡ sắc màu hoàng hôn (Vibrant Sunset of Sai Gon) tour, which takes in the sunset along the Landmark 81 building, Nguyen Hue Pedestrian Street and the Sai Gon River, he said.
Việt Nam – câu chuyện chưa kể về Sài Gòn xưa và nay (Việt Nam – Untold Stories of Old and Current Sài Gòn) is another significant tour. It consists of five mini tours for visitors to enjoy street food and experience the life of a farmer in Vam Sat – Can Gio, among other activities.
Nguyen Thi Anh Hoa, deputy director of the city's Department of Tourism, said the tourism promotion programme this year has attracted the participation of 20 travel agencies covering 50 destinations.
During 2020, HCM City will offer many special tours, all priced at VND430,000 per person during the first five days of the month on major holidays in March, April, September and December, she said.
Some travel agencies will further reduce their prices by 30 to 45 per cent. VNS

The Tet (Lunar New Year) Festival 2020 kicked off in Le Van Tam park, Ho Chi Minh City on January 3 as part of activities to honour Vietnam's cultural and culinary values.

The atmosphere of a traditional Tet (Lunar New Year) will be nudged closer to both Vietnamese and foreigners at the Tet Festival, which is scheduled to take place in Ho Chi Minh City from January 3-5, 2020.

Travel companies in HCM City are selling package tours for a seven-day Tết (Lunar New Year) holiday which starts on January 23 (or the 29th day of the last lunar month).