HCM City to reform food markets
VietNamNet Bridge – HCM City plans to focus on the four key areas of exports, logistics, exhibitions and fairs, and wholesale and retail activities,
VietNamNet Bridge – HCM City plans to focus on the four key areas of exports, logistics, exhibitions and fairs, and wholesale and retail activities, according to Nguyen Huynh Trang, deputy director of the Department of Industry and Trade.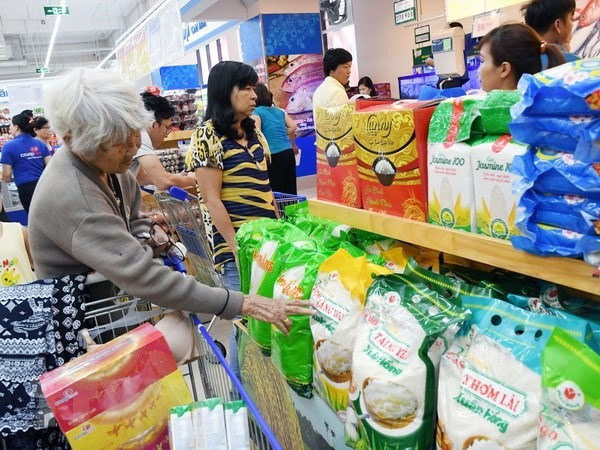 HCM City plans to focus on key areas in exports, logistics, exhibitions and fairs, and wholesale and retail activities. — VNA/VNS Photo
Local authorities will not allow the opening of more traditional markets, but will upgrade existing ones to ensure that they have a hygienic environment and meet food safety and origin regulations.
Three wholesale markets, Binh Dien, Thu Duc and Hoc Mon, will eventually be transformed into import and export trading centres and be open to tourists.
The department has also proposed rental rates for stalls in traditional markets in a document submitted to the municipal People's Committee.
To support the retail sector, the city is encouraging businesses to invest in the logistics sector and develop distribution systems that could link to tourism development.
As part of its plan, the city will open more convenience stores in suburbs, new residential areas, industrial zones and export processing zones.
HCM City plans to create at least five big retail enterprises to compete with their foreign counterparts by the 2025-30 period.
A more favourable legal environment will also support local enterprises and fair competition. Local enterprises now have to compete with many companies from Thailand, Japan and South Korea.
To expand its share in the retail market, Japanese retailer Aeon has bought 49 per cent of Citimart's shares and 30 per cent of Fivimart's shares.
Meanwhile, Thai businesses own two large retail chains, BigC, with 32 supermarkets, and Metro, with 19 supermarkets.
Modern retail
Experts say that it is time for Vietnamese retail firms to "grow up" and adopt modern retail practices.
Vietnam's retailers have had to compete with foreign rivals in the merger and acquisition (M&A) boom.
The recent penetration of foreign retailers, fuelled by the participation of Vietnam in a series of new-generation free trade deals, has hastened the race for capturing market share in the retail sector, which is seen as having large untapped potential with strong purchasing power.
The domestic retail market is seeing M&A deals between local retailers and foreign partners increase competitiveness and ensure international integration, but a specific retail development plan from the State is needed, experts say.
The M&A trend is gaining popularity because foreign retailers provide the benefits of experience in management, operations, expansion and development of a distribution system, thus reducing the pressure of competition, according to experts.
Local companies must accept M&As since price competition is not the optimal solution, they said.
Enterprises should focus on improving the quality of products, governance and reputation, economist Le Dang Doanh said.
Nevertheless, domestic retailers should recognise their strengths as well as weaknesses to design business strategies that are best suited to the consumer market in the country.
The key advantage of domestic retailers is their knowledge of regional culture and consumption habits of the Vietnamese people.
In a related matter, HCM City will implement eight projects on planning and developing markets, supermarkets and shopping centres from 2016-20.
It will also repair and upgrade traditional markets from 2016 to 2020; enhance distribution network management and develop exports in the 2017-20 period, with a vision to 2030.
As of the end of last year, the country had 957 supermarkets and 189 trade centres.
Most of them are located in big cities and densely populated urban areas.
Hanoi, Hai Phong, Da Nang, HCM City and Can Tho account for almost half of all supermarkets and commercial centres in the country.
Source: VNS