HCM City-Trung Luong Expressway in need of repair

Nguyen Van Thanh, head of the Department of Road Management No 4, has asked the Ministry of Transport to approve supplementary capital for the repair of the HCM City-Trung Luong Expressway this year.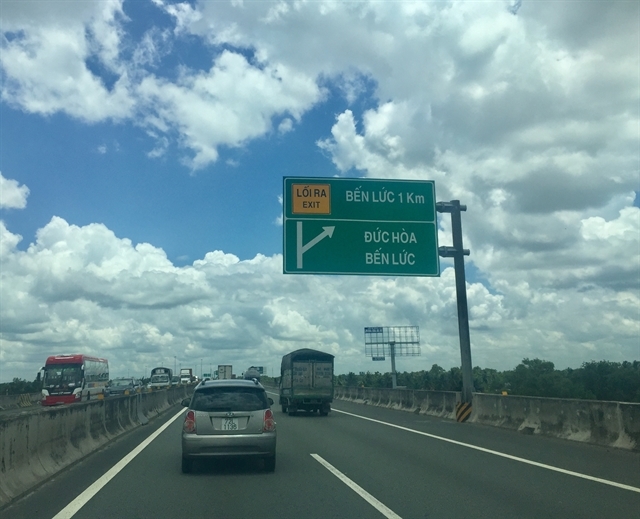 Vehicles on HCM City-Trung Luong Expressway in Long An Province's Ben Luc District.
Last Friday, the Directorate for Roads of Việt Nam (DRVN) under the Ministry of Transport inspected the expressway with the aim of finding solutions to reduce traffic congestion during the upcoming Tết (Lunar New Year) holiday.
After nearly 10 years of operation, the expressway has deteriorated, Thành said. 
"Container trucks have caused severe cracks in the road."
He asked the ministry to consider reopening toll fee collections on the expressway after the toll booths are upgraded.
Installing a smart traffic monitoring and operation centre should also be considered, he said.
The Yên Khánh Company stopped collecting fees on the expressway on January 1 last year.
The company had to transfer road management duties to the DRVN because the five-year contractual period for toll fee collections had ended.
After the change, the number of vehicles entering the expressway increased.
In the fourth quarter of last year, for example, the Chợ Đệm toll booth in HCM City's Bình Chánh District saw more than 53,000 vehicles per day, a 138 per cent increase year-on-year.
More than 45,285 vehicles pass through Thân Cửu Nghĩa toll booth every day in Tiền Giang Province's Châu Thành District, up 125 per cent compared to the same period of 2018.
Before and after Tết last year, the number of vehicles entering the expressway increased by 150-200 per cent compared to normal days.
Last year, the number of traffic accidents and traffic-related violations also increased compared to the previous year. 
There were 158 traffic accidents on the expressway, killing nine people and injuring 14. More than 240 violations committed by motorbike drivers occurred last year.
Nguyễn Mạnh Thắng, deputy general director of DRVN, asked the Department of Road Management No 4 to add more patrols to discover and stop motorbikes from travelling on the expressway.
Traffic police officers were told to strictly handle violations to bring the situation under control.
Thắng said an inspection team would be set up to strengthen supervision of traffic safety, and handle traffic accidents and traffic congestion during the holiday. — VNS