HCM City: workers expected to take extended break
VietNamNet Bridge – The city is forecast to be in short of up to 15 per cent of labour force after the nine-day Tet holiday.
VietNamNet Bridge – The city is forecast to be in short of up to 15 per cent of labour force after the nine-day Tet holiday.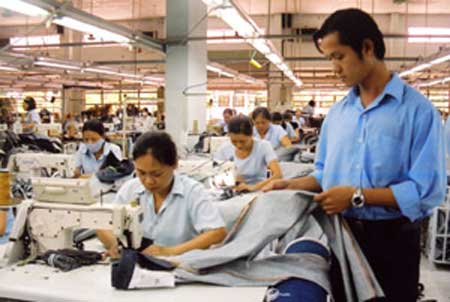 Workers make jeans for export at a textile company in HCM City. Labour shortages are predicted in textile and garment, processing and services companies in the city after the Tet holiday.

The estimated figure is about 10 per cent lower than the same period previous years.
Tran Anh Tuan, deputy director of the Centre of Forecasting Manpower Needs and Labour Market Information (FALMI), said the labour shortage would mainly be predicted at textile and garment, processing and services companies.
The shortage is attributed to reluctance to return to work after long holidays among many workers, who hail from the countryside. This goes despite the fact that many workers have been left jobless due to the economic downturn.
At this moment, enterprises are making efforts to ensure appropriate salaries, rewards and financial assistance for their workers so as to encourage them to be back to work in time, Tuan said.
Nguyen Dong Hung, a worker for a garment company in District 5, HCM City, said he would spend two weeks in the countryside due to expensive travelling costs and a long time of living far from home.
He hails from northern Nam Dinh Province, about two-day travelling from HCM City by bus.
The factory just allowed him to be off a week. So, he would quit this job because many garment companies recruit new workers after this holiday.
There would be no differences in jobs and salaries, he said.
Tuan also said many unemployed people would prefer working at home or applying for part-time jobs in the first months of this year due to difficulties in looking for permanent jobs and bankruptcies of many enterprises.
Enterprises in the city are forecast to recruit more than 23,000 and 30,000 workers this month and next month respectively. Most of them are forecast to be graduates from vocational training schools or belong to unskilled groups.
This month, enterprises of textile and garment, food processing and services will be in more dire need of labour demand. Next month, the group will include those in the fields of mechanics, construction or real estate.
The statistics of the centre showed that the city's enterprises last month had a demand of recruiting people for 19,185 working positions, mainly in sale, safeguards, house keepers and garment workers. Meanwhile, more than 16,000 people looked for jobs.
The number of people with higher-education degree looking for jobs were 30 per cent higher than the recruitment demand of enterprises.
Tuan said sale and service positions made up nearly 56 per cent of the demand total because enterprises wished to boost consumption of their products when Tet holiday is coming.
Meanwhile, Vu Trung Chinh, director of Ha Noi Job Placement Centre said job recruitment demand this year has yet to show positive signals.
He said no enterprises in Ha Noi registered for the centre to recruit temporary positions in the first months of this year.
Meanwhile, this market in previous years were so busy. Hundreds of food, confectionery and fashion enterprises or traders of ornamental plants recruited a large number of temporary positions in the same period last year.
Source: VNS