HCMC teacher offers lesson in compassion
VietNamNet Bridge – "Bang Tuyet" means ice and snow, but this teacher -- who decided overnight to devote her life to helping children with Down syndrome and autism -- has a warm heart that contradicts the coldness of her name.
VietNamNet Bridge – "Bang Tuyet" means ice and snow, but this teacher -- who decided overnight to devote her life to helping children with Down syndrome and autism -- has a warm heart that contradicts the coldness of her name.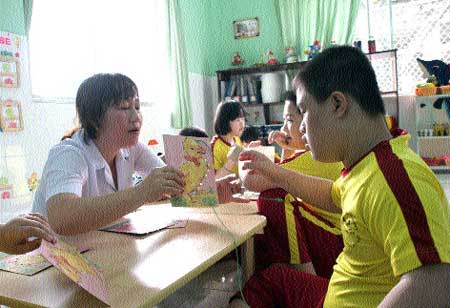 Independent study: Relying on information from the Internet, Huynh Ngoc Bang Tuyet devises interesting lectures for her students.
Huynh Ngoc Bang Tuyet's eyes brightened and filled up at the same time.
One of her students with Down syndrome at the Niem Tin (Belief) School for Disabled Children had just said something praising her.
The student's words could only be understood with difficulty, but for Tuyet, the praise was ample reward for the time and effort she has spent year after year, teaching her students to perform such simple actions as washing their hands, brushing their teeth, and using a spoon to eat.
For her current class of 12 students aged seven to 16, Tuyet is more than a teacher. Over the eight years she has spent at the school, she has been a mother, a nurse and a caregiver for many children. But it is not a job that she had planned to take.
"I once watched a television report on schools for disabled children. I came to the school asking for information so I could arrange to send my nephew, who has special needs, to study here. Unfortunately, it was not a suitable school," Tuyet recalled.
But while walking around the school and seeing the children there, she was deeply moved and wanted to do something for them.
"I felt sad for them, so I applied for a job here."
Tuyet does not just turn up everyday and help the children with whatever they need. She frequently visits bookstores and browses the Internet in order to get more information on teaching methods and materials that she can use to help her wards.
When she applied for the job, Tuyet knew that she would have to take care of the children for years. Some students are 10 or 13 years old, but have the mental growth of nine-month-old infants
Nguyen Thi Hue, who sends her 12-year-old grandson, Nguyen Ba Duy, to Tuyet's class, said the boy has begun behaving well at home in recent years thanks to Tuyet's teaching methods. He is now able to take care himself and invite others to have meals at home.
In tears, Hue said: "Tuyet is a good teacher. She never accepts gifts from me as she knows my family's situation."
Tuyet, who'd previously had 26 years of experience in pre-school education, talks frequently with her students' relatives to understand more about their background so that she can fashion appropriate teaching strategies.
Apart from being a teacher, she has to play the roles of a mother and even a nurse when she is class.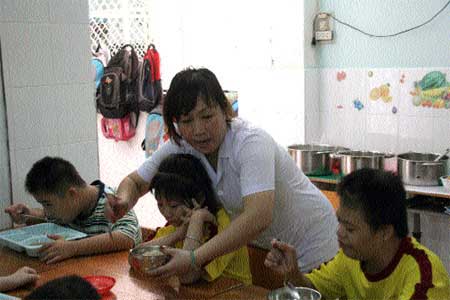 Hands-on: Tuyet is even busier during lunch time than during her classes.
Some of her students suffer from frequent epileptic fits, so she has to know very well the measures to be taken to deal with them. She also has know-how to deal with several different problems and conditions that her students live with.
"I am aware that I have to be devoted and patient to help the children to know the most simple thing and develop the most basic skills, like drinking water, eating rice, going to the restroom," Tuyet said.
It is not so difficult to be devoted and patient once people realise what a big difference such small skills make, she added.
This is why she is always smiling, although taking care of 12 children afflicted by these conditions is a daunting task.
Tuyet recalled that when she began teaching at the school, she was beaten by the children and could not understand why they did it. Later, she recognised that the children were unhappy. Approaching them with compassion, she tried to find ways to understand them better and instruct them in basic daily activities.
Now, several of her students can wash their hands, hold a glass to drink water, peel boiled eggs. These simple achievements have required great efforts from the teacher who is always looking to be creative and make her lessons simple and interesting.
After class, she returns home, but refused my request to visit her family.
I found out later that she takes great care of her parents-in-law and husband. Tragedy visited her happy family in 2000 when her husband had a serious traffic accident and "lost his mind". Despite such a tough situation and the meagre salary that the school gives, she insists on helping the children.
Do Thi Xuan, another teacher at the school, said she admires Tuyet and has learnt a lot from her.
In fact everyone who meets Tuyet learns from her. Her limitless patience and love are a lesson in compassionate living for everyone.
Source: VNS