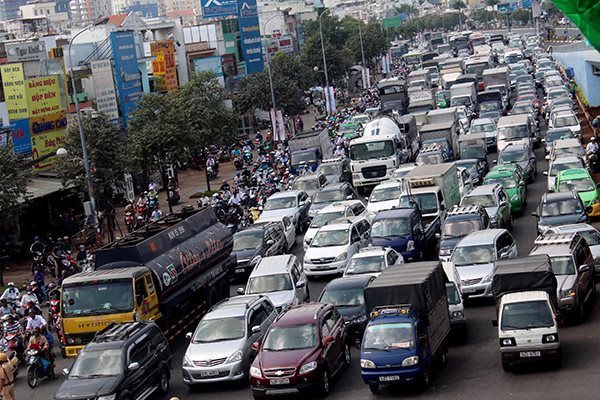 A lot of trucks are seen on Dien Bien Phu Street in HCMC's Binh Thanh District. HCMC is considering a plan to force cargo trucks to operate in inner-city areas at night to reduce traffic congestion
However, transport service providers said that it would raise costs and cause trucking disruptions. 
Vo Van Hoan, vice chairman of the municipal government, urged the HCMC Department of Transport to study the plan at a recent working session with the department.
Under the current rules, container trucks are banned from inner-city areas from 6 a.m. to 9 p.m. but smaller cargo trucks can still operate in these areas for certain periods in the daytime. But the plan, if adopted, would affect all kinds of truck. 
The plan could radically affect cargo transport and logistics operations but will help businesses save fuel charges as there is barely any traffic at night. Also, the plan is expected to encourage the growth of a night-time economy, he said.
The department has to present a detailed roadmap in its plan, the vice chairman noted.
Do Xuan Phuc, director of Minh Lien Transport Company, told The Saigon Times that a ban on day-time cargo transport operations would have a significant impact on transport operations.
It is difficult to hire stevedores at night and drivers are not able to work on the night shift for an entire year, resulting in a hike in transport costs. In addition, transport operators will have to raise employees' salaries as working at night is considered overtime work.
Accordingly, he suggested considering building new roads or working out other measures instead of imposing a ban on day-time cargo transport.
The plan would also affect society, said Bui Van Quan, president of the HCMC Goods Transport Association.
Thousands of business facilities, shopping malls and supermarkets in inner-city areas require daytime goods deliveries. The execution of the plan would drive up both transport costs and product prices, according to Quan.
The head of the association suggested restricting the number of construction projects in downtown HCMC and relocating schools and hospitals from inner-city areas to other places to ease traffic congestion.
For the proposed plan, the city should work out a specific roadmap that identifies the places and roads where transport vehicles will be banned or restricted, he added.
Le Ngoc Minh, chairman of Pacific Group, said the city's government should only ban trucks from traveling into inner-city areas from 6 a.m. to 9 a.m. and from 4 p.m. to 7 p.m. to avoid disrupting economic activities. The city should balance the interests of local residents and companies' operations. SGT
Le Anh

HCM City authorities are planning to complete or start key transport infrastructure projects this year in an aim to reduce traffic congestion and develop connections between the city and neighbouring provinces.